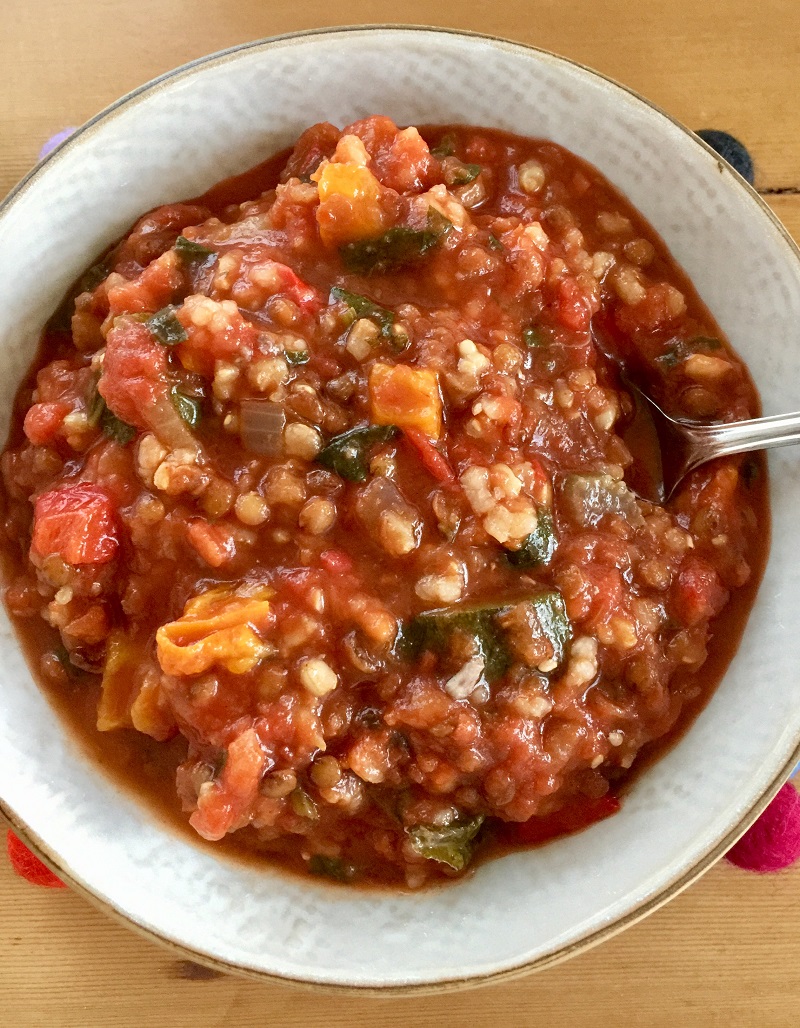 10 Feb

Lentil. brown rice and vegetable 'bolognese' (vegan)

This is a great staple to have in your culinary repertoire, its filling and delicious with pasta or serve with mung bean burgers or as a side with a salad it goes with everything. It has an Italian base as its flavour with the addition of puy lentils and short grain rice to provide bulk and texture. It contains lots of protein, antioxidants, B vitamins and fibre.

Serves 6 to 8 depending if it is a main course or a side dish.

2x 400g tins of chopped tomatoes
100g puy lentils
100g short grain brown rice
1 medium red onion, finely chopped
1 orange and 1 red pepper, finely chopped
1 aubergine, chopped into small dice
1 courgette chopped into small dice
2 large cloves garlic, crushed
2 tsp dried oregano
1/2 tsp dried thyme
1/2 tsp red chilli flakes or to taste
4 tbsp tomato paste (from a tube)
2 rounded tsp vegetable bouillon
2/3 rounded tsp brown sugar to counteract the tartness of the tomatoes
1 tsp salt or more to taste
Good grind of black pepper
4 tbsp olive oil

Heat the oil in a large pan and put in all the vegetables and fry on medium heat for 8 minutes with lid on creating some steam, stirring often.
Add the tomato paste, garlic and herbs and stir well and cook for a minute or so.
Add the tomatoes and half fill tins to wash out with water and add.
Stir in the lentils and rice and the bouillon, sugar and salt.
Bring to the boil and turn down to a simmer and cook for 30 /40 minutes until the rice and lentils are cooked. There should be enough liquid but keep and eye and add water if it looking dry.
Taste and add more salt if necessary.

As it sits it will become thicker – you can add water if you like to thin it a little but I like to serve it when it is quite a thick sauce.
It can be thinned to make a minestone soup. Adjust seasoning as required.
Make it into a bake by mixing in with cooked pasta, spoon into a deep oven proof dish and scatter over grated cheese (if using) or use as vegetable tomato sauce layer in lasagne.