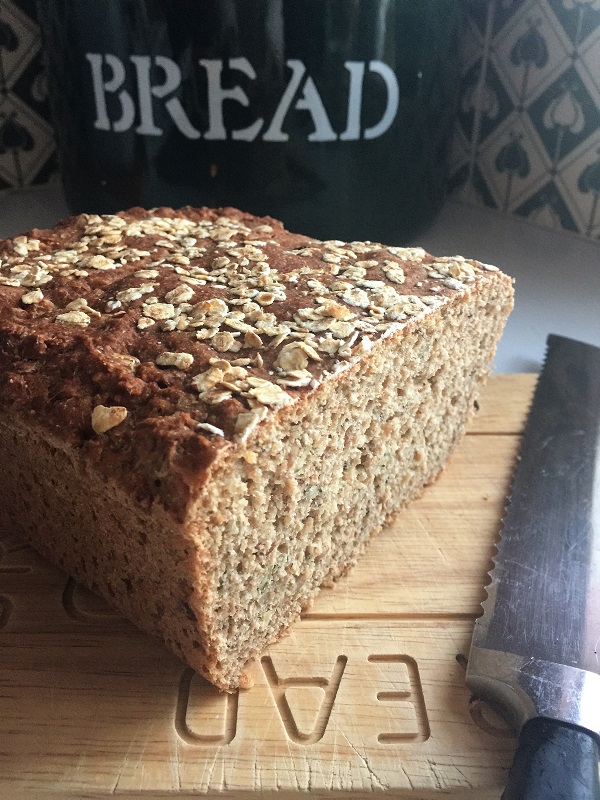 24 Nov

Wholegrain Spelt, Oat and 5 Seed Yeast Bread

This is a family favourite and everyone expects it to be in the bread bin at all times! It requires no kneading and keeps well for a few days if it lasts that long!

Dry Ingredients

300g organic wholegrain spelt flour (I use Doves Farm)
100g  organic porridge oats
2 tbsp each of sunflower, flaxseed, chia and pumpkin seeds
1 rounded tsp fast action yeast (I use Doves farm)

Wet Ingredients

2 tbsp olive oil
1 tsp salt
275ml lukewarm water – approx
Sesame seeds or oats for sprinkling

Preheat oven gas 6 or 200C

Oil a 2lb /900g loaf tin and sprinkle bottom lightly with sesame seeds.

Place all the dry ingredients into a large bowl, mix well and make a well in the centre.
Add the oil and add the water gradually – you need to achieve a loose sticky dough, add more if necessary. Mix well with a wooden spoon.
Spoon the mixture into your tin, smooth and level, pressing down with a wet hand and sprinkle on some oats or sesame seeds, pressing them down.
Cover with a damp tea towel or oiled cling film loosely covered, and place somewhere warm for 45 mins to 1 hour to rise – above a radiator not directly on it,  place the tin on a book, or on the back of a range or next to the cooker.
Once it has risen to the top of the tin, remove the towel or cling film, pop into the middle of the oven for 35 minutes or nicely browned.
Leave in the tin for a few minutes, this allows the bread to shrink slightly from the sides of the tin,  then loosen with a knife and tip out of the tin, the bottom should sound hollow when tapped, cool on a wire rack.