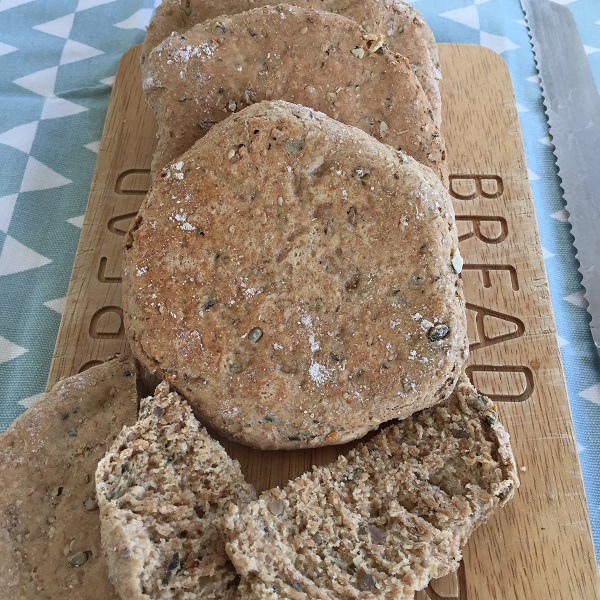 29 Jan

Wholegrain spelt and seeded pita breads

Nutritionally speaking although spelt is a form of wheat, it is better tolerated than ordinary wheat. It has more protein and less gluten which makes it useful to people with gluten intolerance.  The seeds and oats add soluble fibre good oils, protein and magnesium . These are substantial and filling – I like to split them in half and top one half with avocado, hummus, relish and sauerkraut and a bit of green salad like rocket and top with the other half for a lovely lunch, or split and buttered to accompany some soup. After cooking they can be popped into the toaster. They are also lovely toasted, split and served as a warm bread with a curry.  They freeze well.

Dry ingredients

100g porridge oats
150g wholegrain spelt flour
150g Doves farm malthouse flour
100 white spelt flour
100g mixed seeds – I used 20g each of chia, flax, sesame, sunflower and pumpkin
2 tsp easy bake dried yeast (I use Doves farm) or 1 sachet of easy bake dried yeast
1 tsp salt

Wet ingredients

300ml lukewarm water
2 tbsp olive oil
1 tsp honey or maple syrup

Preheat your oven to gas 7 or 250C

Mix the dry ingredients together in a large bowl.

Make a well in the centre and pour in the wet ingredients. Combine well and turn onto a floured surface and knead for 4 minutes.

Shape into a sausage shape and cut into 10 pieces. Roll each piece into a ball then tease with your fingers into a round a bit bigger than the size of your palm or use a rolling pin. Each piece should be approx half an inch deep.

Lightly sprinkle flour onto 2 baking sheets. Place the pitas onto the baking sheets and loosely cover with clean tea towels.
Place them on the top of your preheated oven or somewhere warm for 30 minutes – they will rise a bit.
Put the trays into your oven and bake for 20 minutes or until lightly browned, and they sound hollow when tapped. You might need to swap the trays over half way through cooking time to cook equally as the top is hotter.

Note : everyone's ovens are different some hotter and some cooler so keep an eye in case they cook quickly.

Cool on a wire rack, wrapped in a clean tea towel to help keep them soft as they cool.