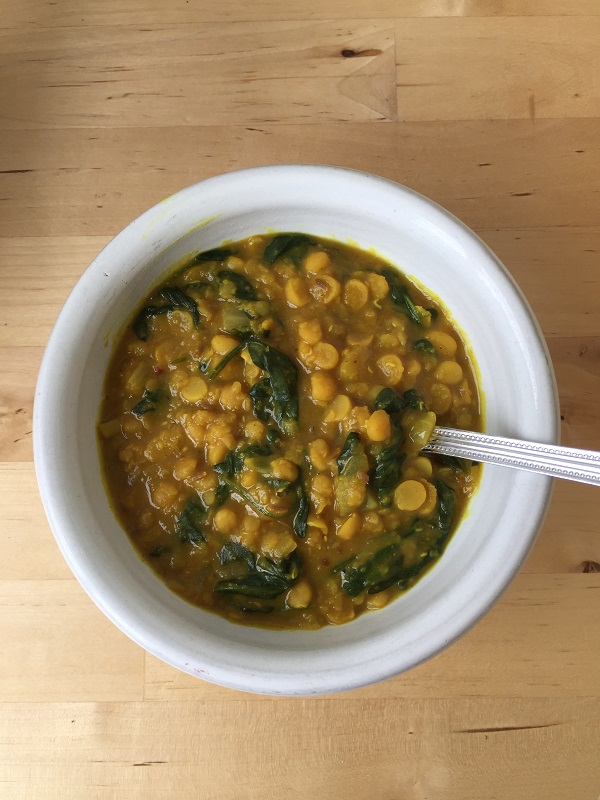 06 Aug

Yellow split lentil dhal with coconut and kale

Delicious as a main or as part of a curry plate this protein packed dish is delicately spiced and I could eat it every day. Lentils offer protein, antioxidants, soluble fibre and silica for our skin, nails and hair. Serve it with rice or nan bread (see recipe) and serve a side salad of green leaves and cucumber or mint and cucumber raita to go with it.

200g yellow split lentils ( Channa dhal)
100g red lentils
1 onion, finely chopped
2 cloves garlic, crushed
1 tsp turmeric powder
1 tsp cumin powder
1 tsp mustard seeds
1/2 tsp red chilli flakes
1   1/2 tsp salt
1 tbsp tamari or shoyu sauce
1 generous tsp tamarind paste
1 400g tin coconut milk (full fat)
2 handfuls of finely shredded kale or spinach

Wash the yellow split lentils in a sieve under a running tap and place into a large size saucepan. Cover with water approx 2 inches above the lentils and bring to the boil. Turn down to a very gentle simmer, put on the lid and cook for 40 minutes to an hour.
In a separate pan fry the onion in 2 tbsp coconut oil until browning and aromatic. Add the garlic and spices and fry gently stirring often for a minute or two. Add the salt, tamarind, tamari or shoyu and kale and stir in and set aside.
After the lentils are cooked – they will be a little firm and hold their shape but they should be soft and if there should be some water left – add the red lentils, onion spice and kale mix and stir well. Add the coconut milk and water if necessary as the red lentils will soak up some water as they cook to a mush. You need a soupy loose mixture.
Bring to the boil, turn down to a simmer and cook for 15 to 20 minutes until the red lentils are mushy. Check it isn't too dry and add a little water of necessary. If using spinach add at the end and let it wilt.
Check the seasoning and add more salt if necessary.