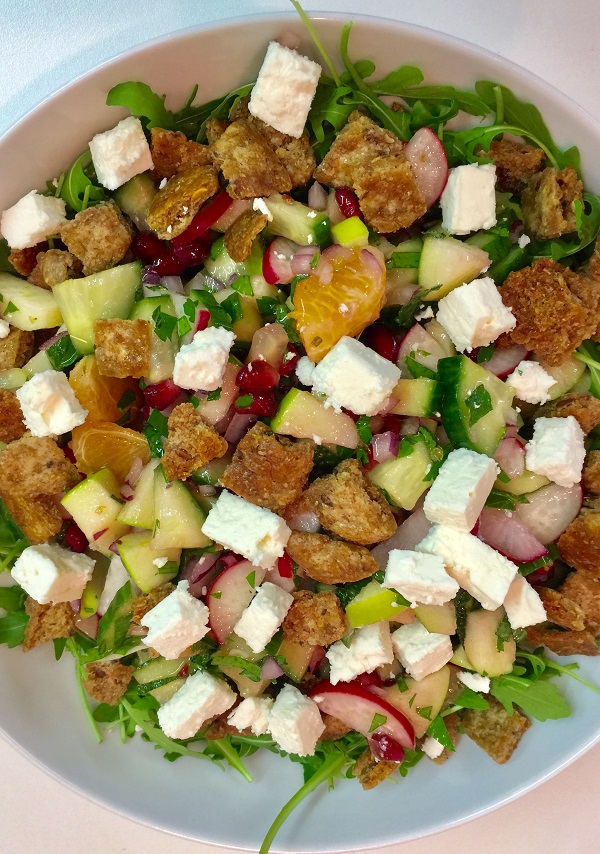 18 Dec

Winter seasonal salad with feta and croutons

The inspiration for this salad came from a Fattoush salad which is Middle Eastern and has day old bread added . Its delicious as the croutons add a lovely crunch, Leave out the feta for a vegan version.

1 oval pita bread, cut into small cubes
2 tbsp olive oil

Salad ingredients
1/2 packet of rocket washed and dried or 2 little gem lettuce, finely shredded
4 radish, sliced
1/2 small red onion, very finely sliced into half moons and separated
1/2 cucumber, finely diced
1 green apple I used Granny Smith, finely diced
1 mandarin/clementine, peeled halved and segments separated
5 mint leaves, finely shredded
a handful of finely chopped parsley
A few pomegranate seeds

Dressing
4 tbsp walnut oil
Juice half a mandarin/clementine
1 tbsp lemon juice
1 tsp honey
1/2 tsp dried oregano
Grind of salt and black pepper

1/2 pk feta cheese cut into small cubes if using

Heat the oven to gas 6 or 200C. Toss the pita cubes in the oil in a small baking tray and bake till crisp, approx 10 minutes, Leave aside.
Whisk the dressing ingredients together in a medium size bowl.
Add the salad ingredients to the dressing and toss.
Spread the rocket or little gem lettuce over the base of the serving dish and spoon over the salad.
Just before serving, sprinkle over the croutons and feta cheese if using.
Scatter over pomegranate seeds.