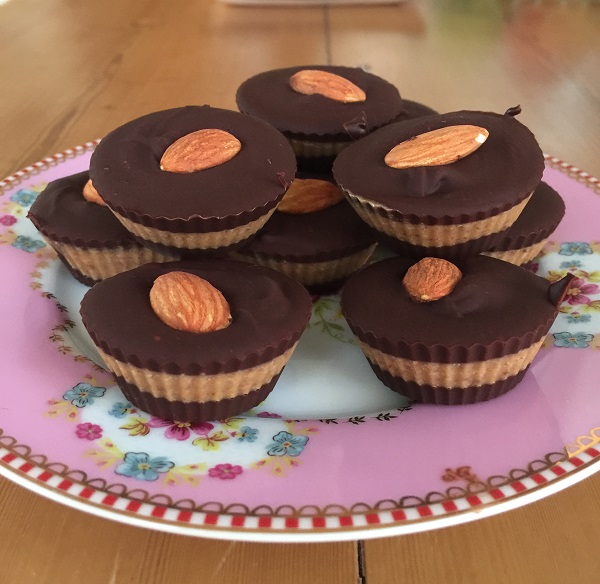 27 Jan

Almond butter and chocolate cups

These are similar to my peanut butter cups except I've used almond butter and included the recipe for almond butter here too. Apart from being delicious these have some health benefits – dark chocolate contains antioxidants and B vitamins and magnesium, almonds contain protein, good oils and soluble fibre. Coconut oil is anti viral and antibacterial and contains medium chain fatty acids which give us energy.
This recipe makes approximately 15 chocolates.

Almond butter 

200g raw almonds
1/4 – 1/2 tsp salt

Preheat oven to gas 5 or 190 C.

Place the almonds on a baking tray and roast for 8 minutes or until they change colour and darken and smell delicious. Allow a few minutes to cool,(reserve 15 for the top of the chocolate cups)  then grind in your food processor with the salt for approx 5 minutes or until they turn to the consistency of almond butter.

Allow to cool completely and transfer to a screw top jar. Store in a cool place. Will keep for up to 6 months.

Almond butter and chocolate cups

Chocolate layer
200g dark 70% chocolate, broken into pieces
30g coconut oil
2 tbsp maple syrup

Small paper cases or small silicone cups

Melt the chocolate in a small bowl over a pan of boiling water stirring occasionally, don't let the bowl or the chocolate touch the water.
When melted add the coconut oil and maple syrup and stir till smooth.
Spoon a good size teaspoonful into the bottom of the cases or cups and put in the freezer or fridge to set.

Almond butter filling

3 tbsp almond butter
1 tbsp maple syrup
1 tbsp coconut oil

Melt together on a low heat in a small saucepan, , stirring with a small whisk, it will become thin and runny.
Once the chocolate layer is set, spoon a tsp of filling over the chocolate and return to freezer or fridge.
Once this layer is set spoon over the rest of the chocolate and top with a roasted almond.
Place back in the freezer or fridge to firm up.
Store in an airtight box with a lid and serve from the fridge.