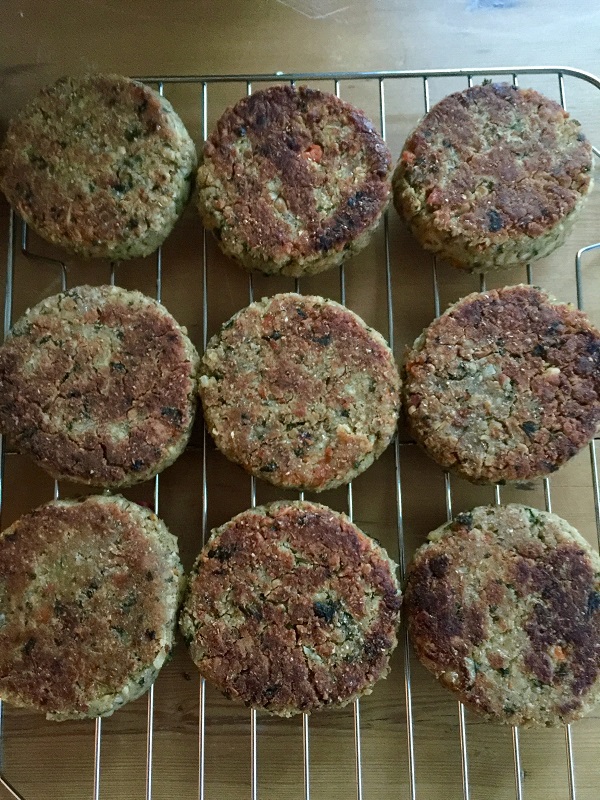 19 Dec

Almond Nut Roast Burgers (vegan)

These burgers are perfect for the festive season. Meat eaters like them too, they could accompany a few slices of turkey as their flavour isn't unlike that of stuffing. Best made a day in advance.
They are vegan and freeze well after cooking and cooling. Just defrost, then reheat gently with a little oil in a frying pan turning once or twice or in the oven for 10 minutes.

100g almonds, finely chopped
50g ground almonds
100g breadcrumbs (not gluten free see note below)
100g regular porridge oats
1 x 400g tin unsalted butterbeans, drained
1 medium to large carrot, grated
2 sticks celery, finely chopped
1 onion, finely chopped
Handful of kale, finely shredded
1 small granny smith apple, leave skin on, finely chopped
1 tsp dried sage
1/2 tsp dried thyme
1 tbsp shoyu or tamari
1 tsp vegetable bouillon
1 tsp salt
2 tbsp olive oil
More oil to fry
wholemeal flour for shaping

In a large frying pan, gently fry the carrot, onion, celery and kale with the oil. After a few minutes add the sage and thyme and cook for a further 5 to 10 minutes till you get a lovely aroma and the vegetables have softened. Stir in the drained butterbeans and set aside.
Using a food processor or mixer, add the breadcrumbs, ground almonds, chopped almonds, oats, salt and bouillon to the bowl. Mix for a few seconds just to combine.
Then scrape the vegetable/bean mixture into the dry ingredients, including any juices. Using the pulse button, pulse to mix together or use a medium speed on your mixer until it all comes together.  You should have a stiff mixture that can be shaped. If it is too soft to shape add a couple of tbsp wholemeal flour.
This amount should make about 8 to 10 burgers depending on how big you make them.
Place the mixture on a floured board or surface. Divide into 8 or 10 pieces. Shape into rounds using your hands.
Now place in the fridge in a single layer between greaseproof paper for a few hours or even overnight, this will help keep the burgers firm.
Heat some oil in a large frying pan and fry 4 burgers at the same time, flipping carefully and gently after about 5 minutes and cook for 10 minutes in all until they are nicely browned. Serve straight away or place on a cooling rack to cool completely before freezing in a single layer on a baking sheet. They will also keep in the fridge for a couple of days without freezing.

If you don't want to shape them into burgers press the mixture into a 10 inch oiled baking dish and brush with more oil and bake for 35 minutes on gas 5 or 180C until nicely browned.

Note: as these burgers contain no egg to bind them so gluten free flour wont work as they need the gluten to keep them from crumbling.  But if you are cooking the mixture in a dish as above you can use gluten free flour and gluten free breadcrumbs and oats.