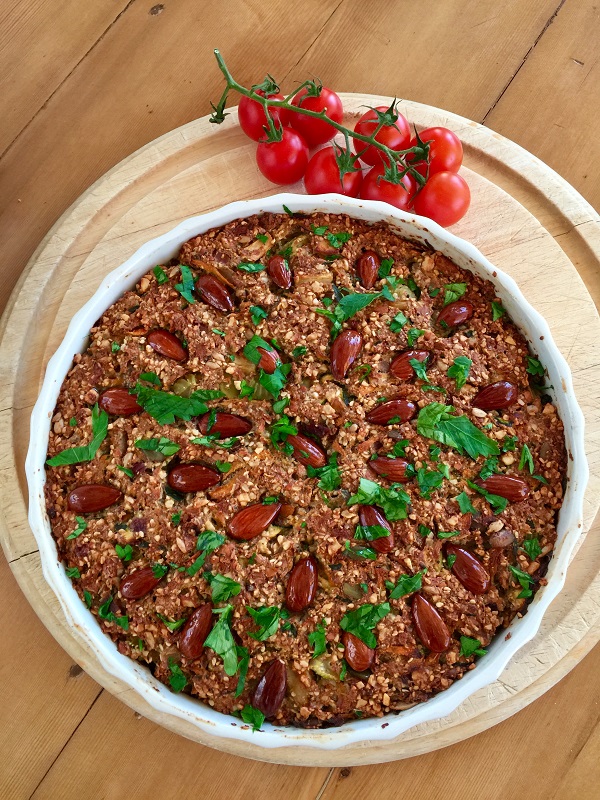 04 Dec

Apple almond and celery nut roast

This recipe appeared in my book and since the book is out of print I am adding it here. When I worked at the 'Wholemeal Cafe' in Streatham, South London during the 80's this was one of our most popular dishes. It can easily be made vegan. At this time of year it makes a great Christmas dinner alternative to Turkey and is also delicious served cold with a salad, especially my coleslaw recipe. Soaking the almonds softens the skins and makes the nuts easier to digest. It is cooked in a shallow dish rather than a loaf tin which makes it less dense.

1 medium red onion, finely chopped
1 carrot, grated
1 medium courgette, grated
2 sticks celery, finely sliced
150g almonds, soaked for 4 hours or overnight, reserve approx 20 to decorate the top
100g wholemeal breadcrumbs
2 large eggs, beaten or for vegans 2 tbsp chia seeds, soaked in 100ml hot water for 15 minutes
1 granny smith apple, chopped up small skin still on
1 tbsp sunflower seeds
1 tbsp pumpkin seeds
1 tsp mixed herbs
1 tsp vegetable bouillon
1 tsp salt
1 tbsp shoyu or tamari
Good few grinds of black pepper
4 tbsp olive oil

Heat oven to gas 5 or 190C
Oil a shalow pyrex dish or tin approx 26 cm x 31 cm

In a small frying pan, fry the onion and celery together for a minute or two in 2 tbsp of the olive oil then add the mixed herbs and cook for another minute or two. Set aside.
Process the nuts in a food processor till they are ground but not too finely.
In a large bowl mix the nuts, breadcrumbs, carrot, apple, courgette together then add the seeds and  stir in the salt, bouillon, the other 2 tbsp oil and the shoyu, then stir in the onion and celery mixture.
Pour over the beaten eggs or soaked chia and mix well.
Spoon into your prepared dish and flatten. Press the extra 20 almonds into the mix in a pattern.

Bake in the centre of the oven for 45 minutes until nicely browned. It looks nice if you brush a little oil over the nuts once it is cooked and sprinkle over some parsley. Serve warm or cold.