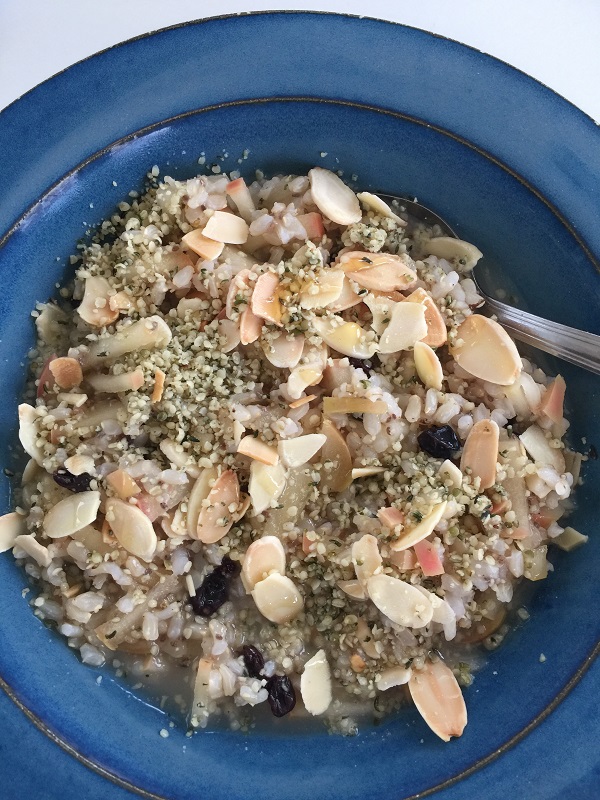 17 Jan

Apple and almond rice porridge (vegan)

This makes a nice change from oat porridge, with added seeds and nuts it satisfies till lunch time! The brown rice gives us B vitamins, magnesium and calcium and lots of soluble fibre which helps naturally lower cholesterol.

this makes 1 portion.

1 cup cooked short grain brown rice approx 100g
1/2 eating apple, finely chopped
1 tbsp dried fruit – i used currants
1 tsp chia seeds
2 tsp hemp seeds
2 tbsp flaked toasted almonds
Rice milk and water
Brown rice syrup or maple syrup to drizzle or honey if you don't need it to be vegan

I cook up a batch of rice (1 cup dry short grain rice and 2 cups water), bring to the boil and simmer for approx 30 mins and then cool and store it in a lidded jar for about 3 days.

Put the cooked rice in a small saucepan and pour over some rice milk and water (1/2 and 1/2) to just cover.
Add the chia seeds, currants and apple and bring to the boil. Simmer for a few minutes until it looks a bit creamy but still has some liquid.
Pour into a bowl, sprinkle on the hemp seeds and almonds. Drizzle with honey or maple syrup or brown rice syrup.

Make sure you chew the rice well as it will make you fuller and increase the nutrient content that you absorb.

I use fresh berries in the summer and you can vary the seeds if you like. Add a dollop of coconut yoghurt or natural yoghurt if you con't need it to be vegan, for extra delciousness!