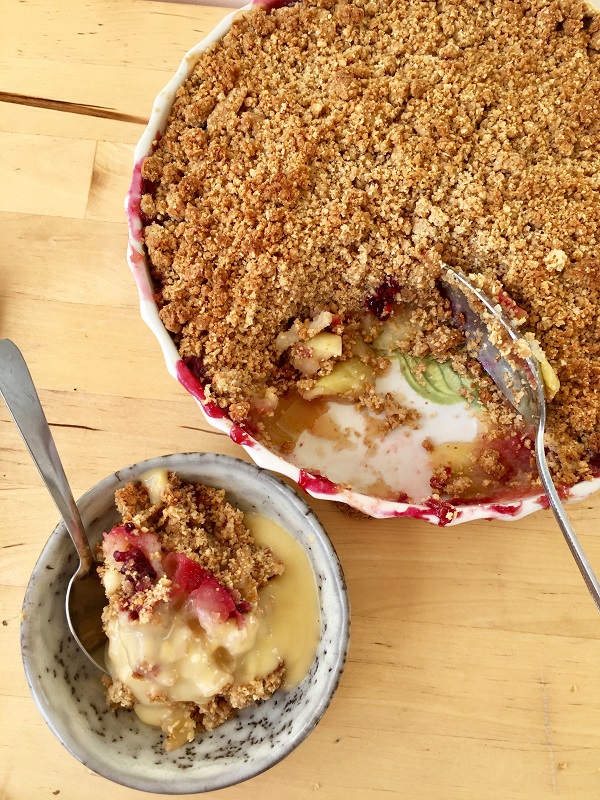 09 Sep

Apple and Blackberry crumble with oat milk custard

Its September so it must be time for an Apple and Blackberry crumble.  A friend gave me some cooking apples from her tree and I picked a few blackberries from the hedgerows around where we live. I use a food processor to make the crumble. Then I made an oatmilk custard which is delicious but it would be equally delish with vanilla ice cream or coconut yoghurt.

4 cooking apples, peel if the skins are tough looking and cut into small dice
4 tbsp maple syrup
A handful of blackberries

100g wholegrain flour
100g porridge oats
50g ground almonds
50g walnuts
50g soft brown sugar
2 tbsp maple syrup
100g butter diced or coconut oil melted

Place the apples and maple syrup in a saucepan with a lid and heat till they sizzle then turn down to a simmer, add some water if it is all a bit dry. Cook for a few minutes till apple is soft but still holding shape.
Meanwhile place the crumble ingredients into your food processor and process till everything clumps together.
Oil a round oven proof dish approx 25 cm across the middle.
Pile in the apples and level, scatter over the blackberries and then sprinkle over the crumble mixture – there might be a little too much.
Bake in the oven on the middle or lower rung. for 180 C or gas mark 4 for about 35 to 45 minute or until the juice bubbles up around the crumble and the colour is golden brown.

Oat milk Custard

1 pint of oat milk
2 tbsp custard powder
2 tbsp light brown sugar

Boil the milk and add a couple of tbsp of milk to the custard powder in a small bowl and stir till smooth. Stir into the boiled milk with the sugar. Whisk for a minute it should be lovely and thick.