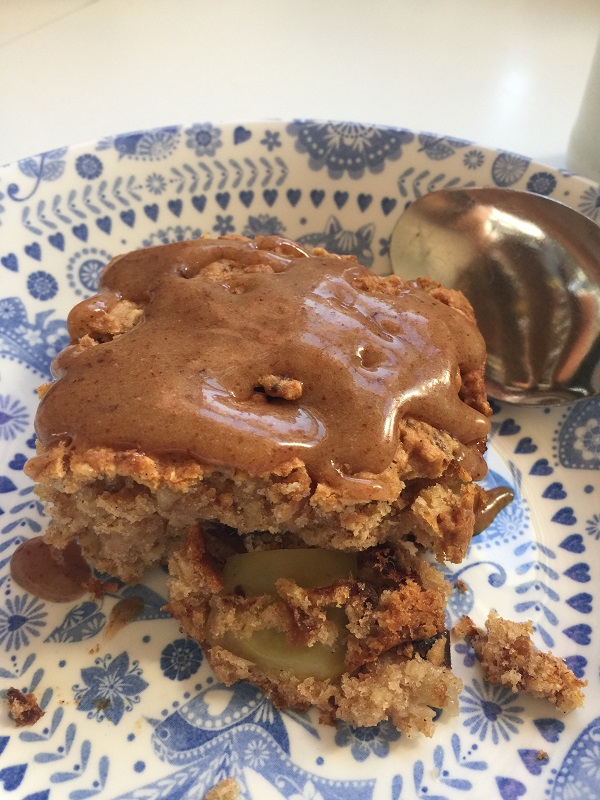 18 Sep

Apple and date cake with almond butter caramel (egg free)

A delicious Autumnal dessert or cake, it can easily be vegan by using coconut oil instead of butter. The simple caramel adds protein from the almond butter and the dates add natural sugar and B vitamins and wonderful fibre. The addition of apple puree gives a lovely moist cake.

100g organic spelt white flour or regular flour
100g organic wholegrain spelt flour or regular flour
100g porridge oats
2 tsp baking powder
50g coconut palm sugar or regular brown sugar
100g dates, chopped
4 tbsp apple puree – make your own by stewing a large peeled and cored eating apple chopped into small pieces and cooked with 2 tbsp water until very soft and mash with a fork or see recipe for Apple butter in accompaniments
4 tbsp melted coconut oil or melted butter (if using coconut add 1/4 tsp salt)
100ml plant milk or regular milk
2 eating apples, cored leave on peel and chopped into small pieces

Caramel
4 tbsp almond butter
2 tbsp maple syrup
2 tbsp coconut oil
Hot water from the kettle to mix

Line a shallow tin with baking paper approx 23cm or 8 inch square over lapping the edge so that you can lift the cake out of the tin by holdng the paper.
Preheat oven to gas 5 electric 190C

Mix the flours, sugar, dates and oats together and stir in baking powder and then the apple pieces.
Make a well in the centre and add the melted oil or butter, the apple puree and milk. Mix well.
Spoon into the tin and level.
Place in the centre of the oven and bake for approx 30 minutes or until nicely browned.
Once cool enough to handle lift out onto a cooling rack.

To make the caramel

Mix the ingredients together in a small bowl and slowly add some hot water whisking all the time until you have a pouring consistency. It will get thicker as it cools.
Serve the cake cut into squares, drizzled with the caramel. Delicious with some coconut yogurt or vanilla ice cream.