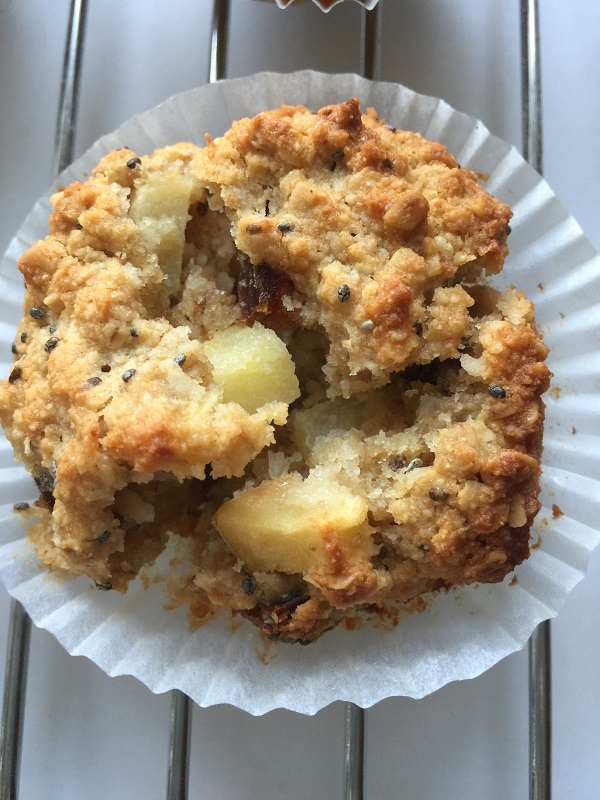 09 Feb

apple and medjool date muffins (vegan)

These tasty muffins are quick to make and perfect for a snack with a cuppa. They contain ground almonds and some chia and sunflower seeds to provide protein and good oils and also fibre and the oats will give sustained energy. Dates and apples also provide soluble fibre and B vitamins from the dates and natural sweetness.

Dry Ingredients
100g wholemeal flour
100g porridge oats
100g ground almonds
50g soft brown sugar or coconut palm sugar
25g desiccated coconut
1 tbsp chia seeds
1 tbsp sunflower seeds
1/4 tsp salt
1 heaped tsp baking powder

Wet ingredients
100g chopped dates, medjool or regular if you can't get them
1 pink lady apple, finely chopped skin still on organic if possible
100g coconut oil, melted
150/200ml oat milk

Place muffin cases into the 12 hole muffin tin. Preheat oven gas 4 or 180C.
Mix all the dry ingredients together in a medium bowl. Stir in the apple and dates then pour on the oil and oat milk. youre looking for a dropping consistency so use all the oat milk if needed.
Stir well and spoon into the muffin cases.
Place in the middle of the oven and bake for 20 to 25 minutes until they are nicely browned.

Cool on a wire rack and store in an airtight tin for up to 4 days or freeze.