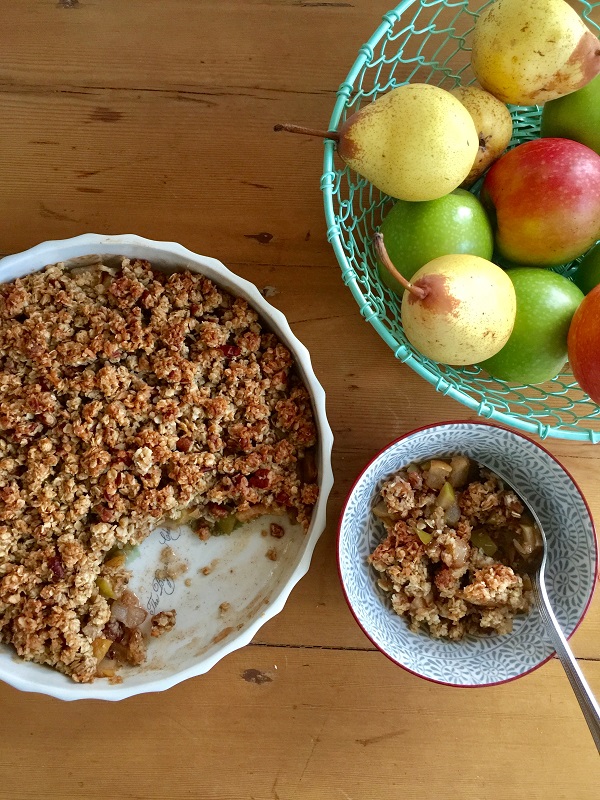 06 Jan

Apple, pear and pecan crumble with maple syrup

This is a bit like a flapjack crumble – there is no refined sugar all the sweetness is from the fruit and the syrup, and to make it vegan just use coconut oil instead of butter. Lots of slow releasing carbohydrates from the oats and spelt flour, maple syrup contains b vitamins and doesn't raise your blood sugar as quiclky as refined sugar. Lots of fibre too as I've left on the skins of the fruit and from the crumble ingredients.  Delicious for a dessert or even breakfast with some yoghurt. You can add in a sliced banana or punnet of berries.

Crumble topping

100g porridge oats
50g wholegrain spelt flour
50g chopped pecans
25g desiccated coconut
3 tbsp maple syrup
100g butter or coconut oil
If using coconut oil add a pinch of salt

Preheat the oven to gas 5 or 190C.
Melt the butter or oil together with the syrup in a small saucepan.
Place the oats, pecans, flour and coconut into a medium size bowl and mix together, pour over the melted butter and syrup and mix well until all the dry ingredients are coated. Set aside.

Fruit layer

2 dessert apples cut into small chunks – I used granny smiths and leave on skins
2 pears, cut into small chunks, skins left on
2 tbsp maple syrup
30g butter or coconut oil
1/2 tsp cinnamon

Melt the butter or coconut oil in a frying pan and add the syrup and cinnamon, then add the fruit. Fry gently for 5 minutes or util starting to soften.
Spread out in a single layer in an oiled oven proof dish approx 23cm in diameter. If using berries or bananas spread over the apple and pear.
Sprinkle over the crumble mix in a loose fashion.
Bake in the centre of the oven for 25 minutes or until the crumble is nicely golden in colour.
Serve warm or cold with yoghurt, coconut yoghurt, ice cream or custard.