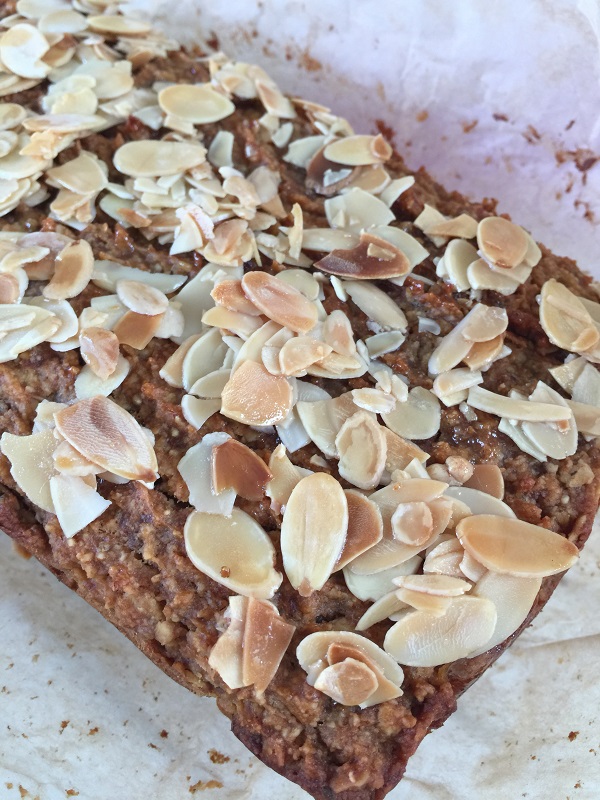 05 Nov

Apricot almond and orange loaf (vegan)

Here I use chia seeds instead of egg to make it vegan and to increase the omega 3 and soluble fibre content.

Wet ingredients

200g finely chopped unsulphured apricots
50g  coconut oil
75g coconut palm sugar or unrefined brown sugar
Juice of 1 orange
Zest of 1 orange finely chopped
1 tbsp maple syrup

Dry Ingredients

100g ground almonds
100g porridge oats
100g white spelt flour (use wholemeal if you prefer)
1 heaped tsp baking powder
2 tbsp chia seeds
2 tbsp flaked almonds for topping

Heat oven gas 5 or 190C
Line a 2lb loaf tin with greaseproof paper overlapping the sides a bit to help remove from the tin.

Place the apricots into a small saucepan with the butter or oil and sugar. Melt on a slow heat.
Stir the chia seeds into the orange juice and leave for 10 minutes to swell.
Mix the ground almonds, oats, orange zest and flour together with the baking powder in a large bowl.
Mix 2 tbsp flaked almonds with the maple syrup and set aside.
Make a well in the centre of the oat mix and pour in the apricot mix and the chia seed mix.
Stir well and spoon into your prepared tin. Level and smooth with a knife and bake for 30 mins.
Remove from the oven and spread the flaked almond/maple syrup on the top and return to the oven for another 15 minutes until nicely browned.

Once cool enough to handle lift out of the tin in the paper and cool on a wire rack.

Keeps in a lidded container for up to 5 days.