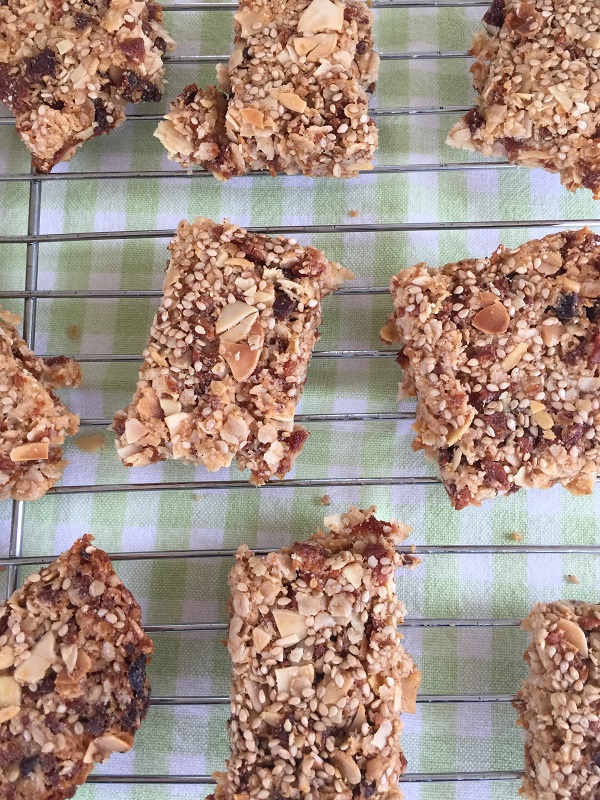 05 Nov

Apricot and Almond and ginger flapjacks (vegan)

Great for a snack or a quick breakfast.

100g dried unsulphured apricots, roughly chopped

100g jumbo oats

50g flaked almonds

100g ground almonds

1 tbsp chia seeds

75g brown rice syrup

1 tsp ground ginger

50g coconut oil

1/4 tsp salt

1 tbsp sesame seeds for topping

Preheat the oven to gas 5 or 190C.

Place the apricots and ground almonds and salt in the food processor and process till apricots are finely chopped.

Place in a large bowl with the oats and flaked almonds, chia seeds and ginger powder and mix.

Place a small saucepan on your scales, set to zero and squeeze or spoon in and weigh the syrup and the oil and then place on the heat until melted.

Pour over the dry ingredients and mix well.

Line a small baking tin 20cm approx with baking paper overlapping the sides to help with removal, spoon in the mixture, pressing down and leveling. Sprinkle with sesame seeds and press down lightly.

Cook in the middle of the oven for 25 or 30 minutes until lightly browned.

Allow to cool for a few minutes then remove from the tin using the overlapping paper, cut into portions, when cool enough to handle use a spatula to gently place on a cooling rack to finish cooling.

Store in an airtight container for up to a week.