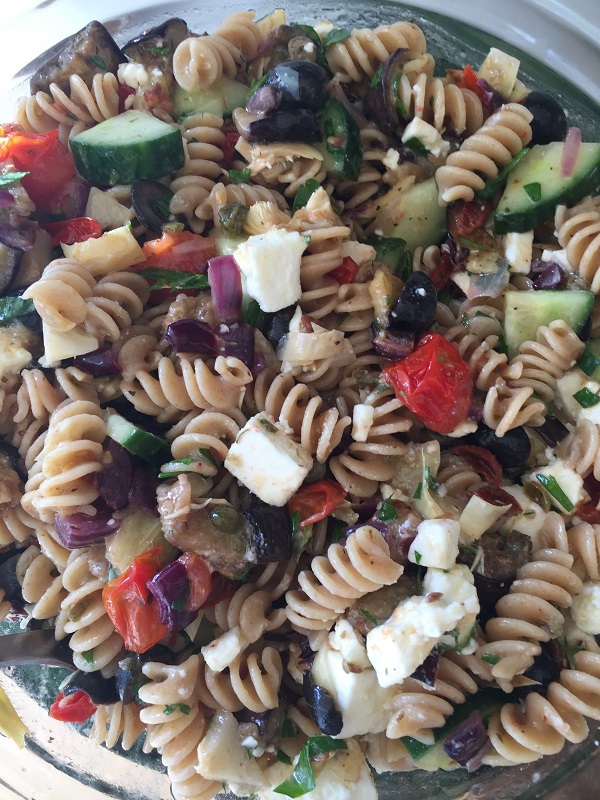 04 Jun

Aubergine and Pasta salad with olives, artichokes and feta cheese in a Mediterranean dressing

A meal in itself this salad is filling and has some delicious flavours. Some of the vegetables are roasted which gives it a more intense flavour. Artichokes are good for your liver as is the lemon. The wholegrain pasta makes you feel fuller for longer and the feta cheese adds protein.

200g dry weight wholegrain pasta spirals
1 aubergine, cut into large dice
1 tray cherry tomatoes
1 large red onion
1/2 cucumber, chopped
1 jar of artichokes in herb oil (I used Jamie Oliver's available in Dunnes and Tesco)
1/2  jar black olives, drained
5 sun dried tomatoes from a jar
2 tbsp capers
200g block feta cheese
Handful of fresh chopped parsley and a few basil leaves

Dressing

4 tbsp oil from the artichokes
4 tbsp extra virgin olive oil
1 tbsp balsamic vinegar
2 tbsp lemon juice
Finely chopped zest of 1 lemon
1 tbsp dijon mustard
1 tbsp honey
1 tsp dried oregano
1 tsp dried basil
1 clove garlic, crushed

Roast the aubergine and red onion in 3 tbsp olive oil and sprinkle with salt and black pepper. When they are about 15 minutes from being done, add in the cherry tomatoes.
Meanwhile cook the past to the packets instructions and rinse with cold water and leave to cool.
Halve the olives and chop up the sun dried tomatoes. Drain the capers and roughly chop too.
Strip the artichokes of their outer leaf as it is usually tough and roughly chop.
Make the dressing by whisking everything together in a small bowl.

Add the pasta to a large bowl, stir in the roast veg, then the olives, artichokes, sun dried tomatoes and capers, then the chopped parsley and cucumber.
Toss in the dressing and stir to coat.
Chop up the block of feta and stir some through and sprinkle rest on top.
Sprinkle on torn basil leaves.

Note : This salad keeps well in the fridge for about 3 days but you may want to leave out the cucumber as it goes a bit soggy if not eaten within a day.