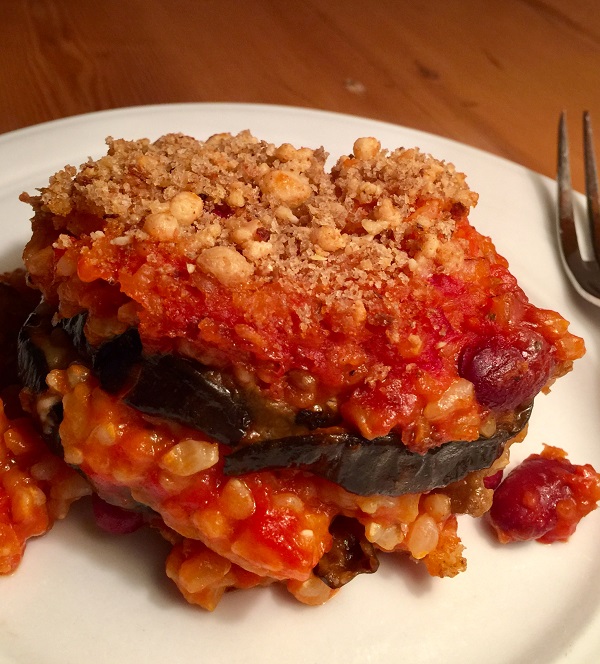 21 Oct

Aubergine, Rice, Red Bean and Tomato Bake with Goats Cheese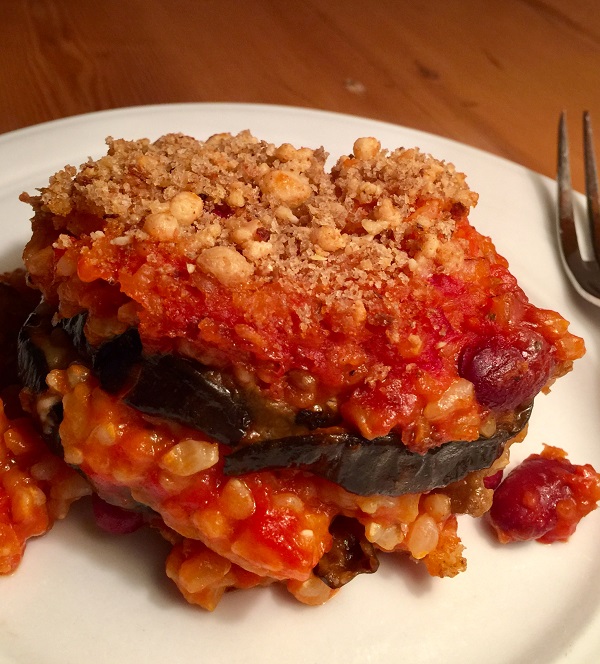 A delicious bake perfect to serve with a salad or stir fried cabbage and the cashew pesto (previous recipe). The brown rice swells to solidify the bake so it slices well. Make sure the aubergines are well cooked well before layering them, many people think they dislike aubergine because it is tough and rubbery if not cooked properly. Cooked properly it melts in your mouth and absorbs flavours perfectly. Red beans add protein and texture.
2 aubergines, sliced into rounds about 1/2 inch thick
100g cooked short grain brown rice
1 x 400g tin red kidney beans, rinsed and drained
100g hard goats cheese, grated
1 thick slice of brown bread made into breadcrumbs
Olive oil for cooking
For the tomato sauce

1x400g tin chopped tomatoes
1 x 340g jar red peppers, drained and roughly chopped
1 red onion, finely chopped
2 cloves garlic, crushed
1 tsp salt
2 tsp sugar ( to counteract the acidic nature of the tomatoes)
Heat oven gas mark 6 or 200C
Place the aubergines rounds on a baking tray in a single layer – you may have to do this twice and brush liberally with olive oil and bake in the oven for about 30 minutes or until brown and tender, turn once during cooking.
Once they are done place on kitchen paper if you like. I don't bother because I think the oil adds to this dish.
While the aubergines are cooking cook the rice in 300g water for 35 minutes until it is soft. Drain if necessary and leave aside.
Make the sauce : fry the onions in 2 tbsp olive oil until soft then add the garlic and fry for about 30 seconds. Add the tomatoes and peppers and salt and sugar, bring to the boil and simmer for 15 minutes. Once cooked blend with a hand held blender till smooth.
Stir the beans and rice into the sauce.
Oil a casserole dish, approx 23cm square and layer a third of the aubergines over the bottom and cover with a third of the sauce.
Cover with another layer of aubergines and sprinkle over half the cheese and cover with another third of the sauce.
Cover with the last third of the aubergines and the rest of the sauce. Mix the breadcrumbs and the other half of the cheese together and sprinkle over sauce. Grind over some black pepper.
Turn the oven down to gas 4 or 180C .
Bake in the centre of the oven for 45 minutes until bubbling and nicely browned.
Leave for 10 minutes before serving .