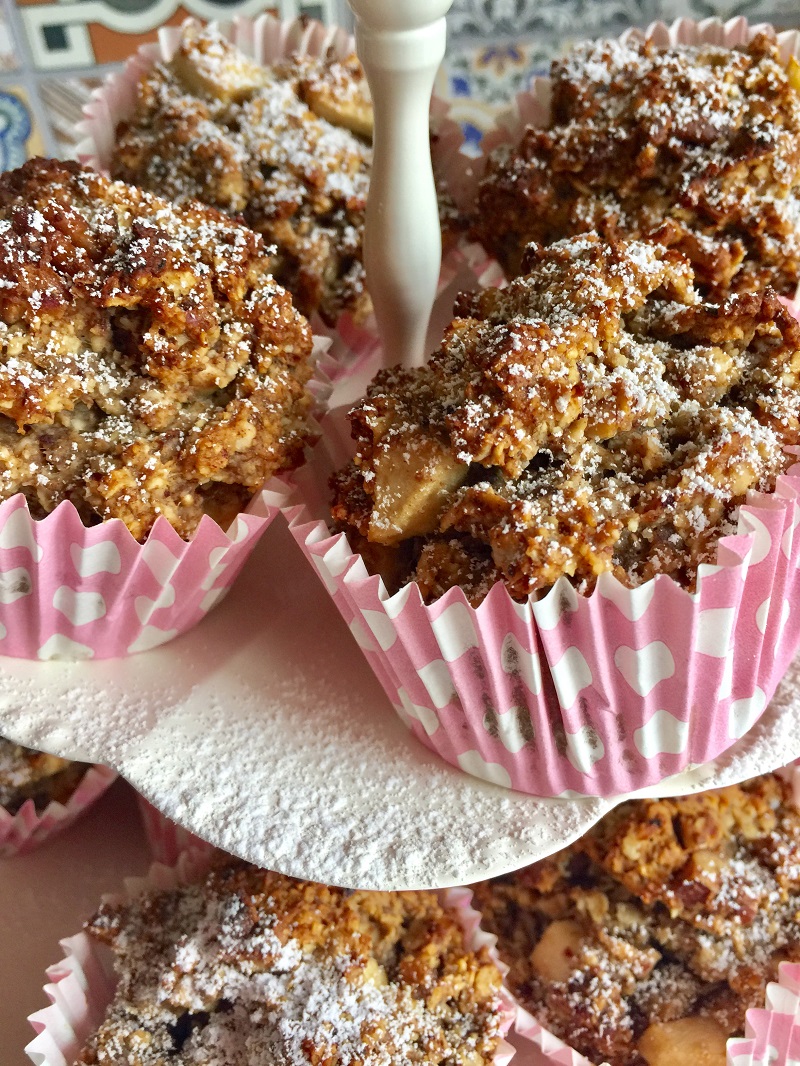 17 Jun

Banana, apple and date muffins with mapled pecans (vegan)

Another variation on a theme with my muffins, these have delicious pecans, toasted in maple syrup folded through the mixture. Granny smith apples add a bit of sour to the naturally sweet dates which also provide roughage, B vitamins and magnesium. Bananas are always a great natural sweetener and contain more antioxidants when they have brown spots.

Wet ingredients
200g stoned dates, soaked in hot water (just off the boil) to cover for 10 minutes
2 tbsp chia seeds, soaked in 150g hot water (just off the boil) for 10 minutes
2 large very ripe bananas, roughly chopped
75g melted coconut oil

Dry ingredients
100g white or wholegrain spelt flour
125g porridge oats
100g ground almonds
2 tsp baking powder

2 granny smith apples, peeled and cut into small dice
100g roughly chopped pecans and 2 tbsp maple syrup

Preheat oven to gas 5 or 190C. Line a 12 hole muffin tin with 12 muffin cases.
Mix the flour, oats, baking powder and almonds together, stir in the apple and set aside.
Place the drained soaked dates into the food processor and add the banana. Process till smooth.
Put the nuts into a small dry frying pan and heat until they smell fragrant stirring often.
Meanwhile stir the date and banana, soaked chia seeds and coconut oil into the dry ingredients.
Add the maple syrup to the nuts and let sizzle for a minute stirring constantly. Then tip them into the muffin mixture and stir and fold in to mix. (Don't leave the nuts for long or they will caramelise and wont mix in very easily).
Spoon the mixture into the muffin cases up to the top as they wont rise that much.
Bake in the centre of the oven for 30 minutes until slightly risen and golden brown. Allow to cool for a few minutes then place the muffins on a cooling rack.

Will keep in an airtight box for up to 5 days or freeze when cold.