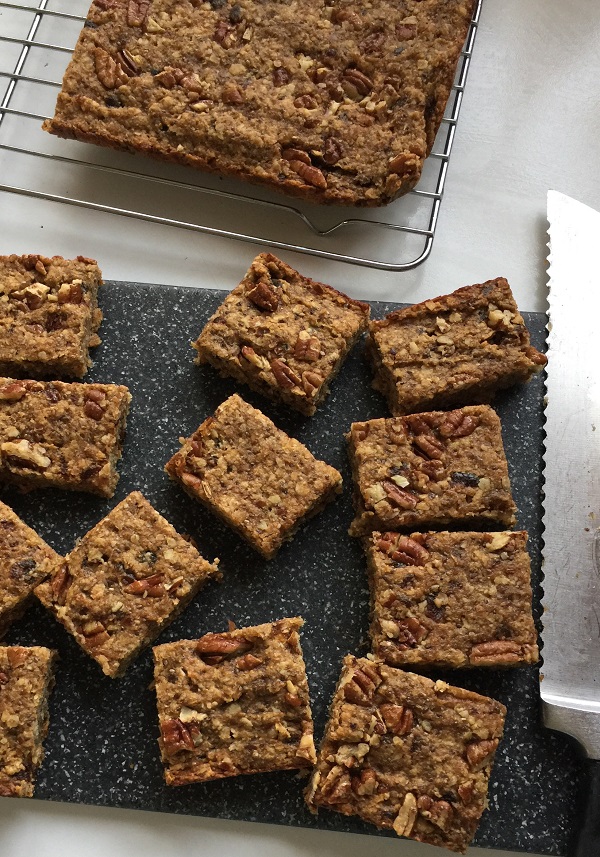 07 Jan

Banana, apple, date and chia seed slice (Vegan)

These make a great snack or a quick breakfast on the run. They are naturally sweetened from the bananas which when they are speckled with brown spots they have more antioxidants for a healthy immune system. Dates are high in B vitamins and fibre and are natural sweeteners. Chia seeds are high in protein and soluble fibre to keep us regular. Ground almonds add more protein and good oils.Oats give us slow release carbohydrates for level blood sugars.  Coconut oil is antibacterial and anti viral and provides a slow sustained energy source.
Slice up and keep in an airtight tin for up to 5 days or a even a bit longer. Take to work or school  or any journey for a quick healthy snack.

Dry ingredients
100g jumbo porridge oats
100g ground almonds
100g wholegrain spelt flour

Wet ingredients
200g dates, roughly chopped and soak in 100ml hot water from the kettle
2 tbsp chia seeds soaked in 100ml hot water from the kettle
50g coconut oil, melted
2 medium very ripe bananas

1 pink lady apple, finely chopped skin on

Topping
75g pecans, roughly chopped, place in a small bowl and add 2 tbsp maple syrup

Preheat oven gas 5 190C

First soak the chia seeds in hot water just of the boil  and leave aside for 10 minutes, stirring occasionally.
Then soak the dates in hot water, just off the boil, use a very shallow dish for this or the dates wont all be covered. Leave to soak for about 10 minutes.
Line a tin approx 21 cm by 30 cm.
Put the dry ingredients into a large bowl and mix well. Add the chopped apple.
In a small saucepan, add the coconut oil, melt and set aside.
Place the bananas and dates including the soak water into your food processor and process for a few seconds till combined and broken up.
Add the coconut oil and the soaked chia seed to the dry ingredients, followed by the banana and date mixture. Stir well until everything is combined.
Spoon into the tin and level.
Scatter the pecan/maple syrup mix on top and press down lightly. Drizzle over any left over maple syrup.
Bake for 25/35 minutes or until lightly browned and slightly firm, it will firm up more as it cools.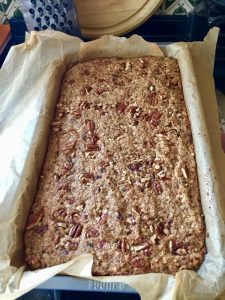 After a few minutes, carefully pick up the sides of the baking paper and lift out the slice from the tin onto a cooling rack. Place a clean chopping board over the slice and invert so it is upside down on the board and remove the paper. Place the cooling rack on top of the slice and invert back and turn over so the cake is back on the cooling rack. This stops it getting soggy in the paper as it cools.Cut into squares when cool and store in an airtight box.