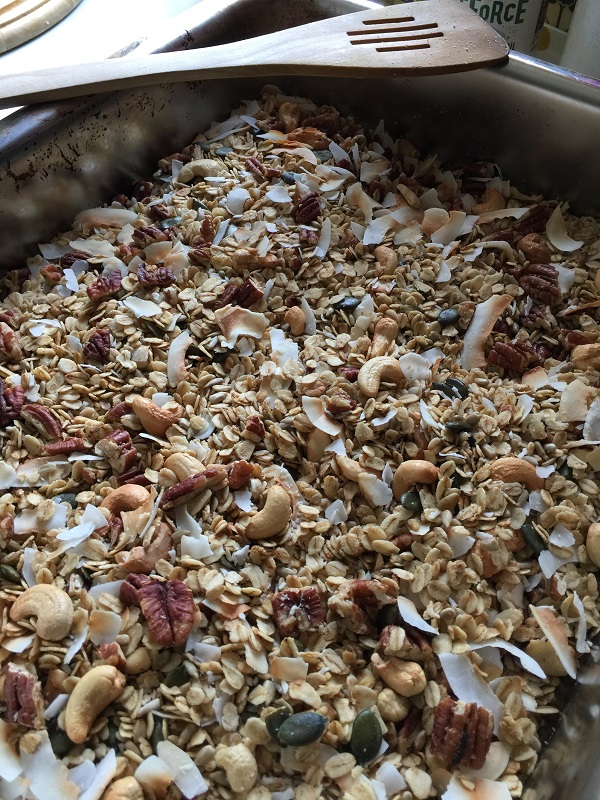 03 Aug

Batch making granola

I often make a big batch of granola – my sons love it and take a bag with them when they visit. I love it too especially with fresh berries and coconut yoghurt for breakfast or mid morning snack, it is very satisfying – full of protein from the nuts and seeds, great soluble fibre from the oats and nuts and seeds and generally a great way to start the day. I don't include dried fruits as they can spike blood sugars but feel free to add them if you want.
Halve this recipe if this looks like too much to make for your needs. It keeps well – make sure it is completely cold before putting into air tight containers. It keeps well for me on my kitchen counter  for a few weeks.

400g Jumbo organic oats
200g chopped pecans
200g cashews
200g melted coconut oil
200g maple syrup
100g flaked coconut
100g desiccated coconut
2/3 grinds of sea or himalyan salt

Preheat the oven to gas 5 or 190C.
In a very large bowl mix all the dry ingredients except the coconut together.
Melt the coconut oil and add the maple syrup and stir into the dry ingredients and grind on some salt.
Mix well so everything seems coated.
Spread in a single layer on a large baking tray  – you might have to do this a few times so that the granola bakes evenly.
Don't leave the kitchen while you are making this as it needs to be turned every 10 minutes for a total of 20 minutes or a little more or less depending on how hot is your oven.
Sprinkle the desiccated coconut and flakes and over the granola for the last 5 minutes of cooking – this burns quickly so this is why I don't add it at the beginning.
Cool completely before storage.