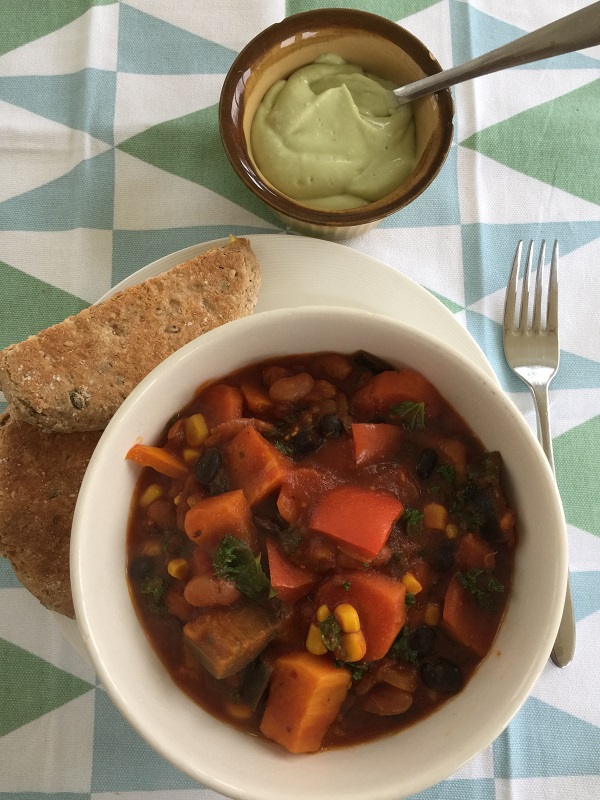 29 Jan

Bean and veggie chilli with avocado 'cream'

Nutritious and warming this chilli includes beans for protein and lots of antioxidant veggies to maintain a healthy immune system. The addition of turmeric and sweet paprika increase its antioxidant status. The avocado cream adds a lovely light touch to balance out the intensity of the tomatoes.

Serves 8.

1 carrot, sliced
1 medium sweet potato, scrubbed and chopped into bite size pieces
1 red and 1 orange pepper, chopped as above
1 aubergine, chopped as above
1 courgette, chopped as above
1 red onion, finely chopped
2 handfuls of chopped kale
2 tsp cumin powder
1 tsp sweet paprika
1 tsp turmeric
1/2 chilli flakes
2 tbsp sweet chilli sauce
2 cloves garlic, crushed
1 x jar passata plus 1/2 jar water
2/3 tsp salt
2 tsp vegetable bouillon
1 tin borlotti beans plus the water
1 tin black beans, drained and rinsed
1 small tin sweetcorn, drained
4 tbsp olive oil

In a large saucepan, add all the vegetables except the kale. Add the oil (you need this much as the aubergine soaks it up) and on a medium heat cook until the vegetables start to colour, stirring often.
Add the spices and garlic and stir to coat and cook for a minute, then add the passata, water, salt, bouillon and sweet chilli sauce and bring to the boil and then turn down to a simmer.
Cook for about 10 minutes then add the beans and the sweetcorn. Bring to the boil again and turn down to a simmer and cook for 30 minutes or so until the vegetables are soft, stirring every so often, adding more water if it is too thick.
Add the kale a few minutes before the end of cooking, check the seasoning – it might need more salt as there is a lot of chilli here.

Avocado 'cream'

2 ripe avocados, roughly chopped
200ml yoghurt (cows or soya or coconut)
juice of 1/2 lemon
1 clove garlic
2 tbsp extra virgin olive oil
1/2 tsp salt

Place all the ingredients into a bowl and using a hand blender, blend until smooth.

Serve the chilli with rice or pita bread, a green salad and the avocado 'cream'.