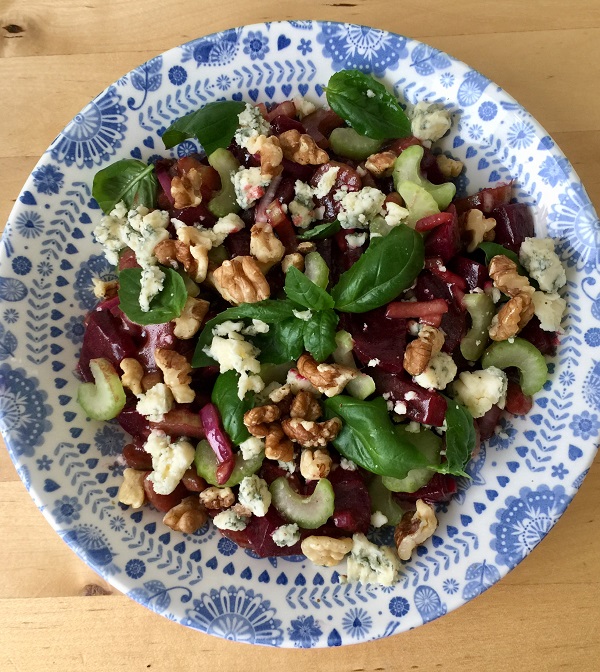 21 Aug

Beetroot and basil salad with walnuts and blue cheese

This is a slight variation of a salad from my book but here I've replaced hazelnuts for walnuts and added blue cheese but leave that out if you're vegan and replace with my recipe for cashew garlic aioli. Beetroot is one of natures superfoods, full of antioxidants and iron. The walnut and cheese add protein.

3 medium beetroots, cooked, peeled and cut into bite size pieces
30g chopped walnuts
1 -2  sticks celery, finely sliced
1 small red onion, very finely diced
10 basil leaves
25g blue cheese if using

Dressing
4 tbsp extra virgin olive oil
1 tbsp balsamic vinegar
1 tsp dijon mustard
1 tsp honey

Mix the dressing ingredients together in a small bowl and whisk till thick. Set aside.
Toast the walnuts in a dry frying pan for a few minutes until they colour slightly and smell delicious. let cool a little.
Place the beetroot, onion and celery into a medium size bowl and stir in the dressing, leave a few slices of celery for decorating the top.

Turn out into your serving dish and scatter over the basil, walnuts and crumble over the blue cheese and dot over the pieces of celery.

Serve and enjoy!