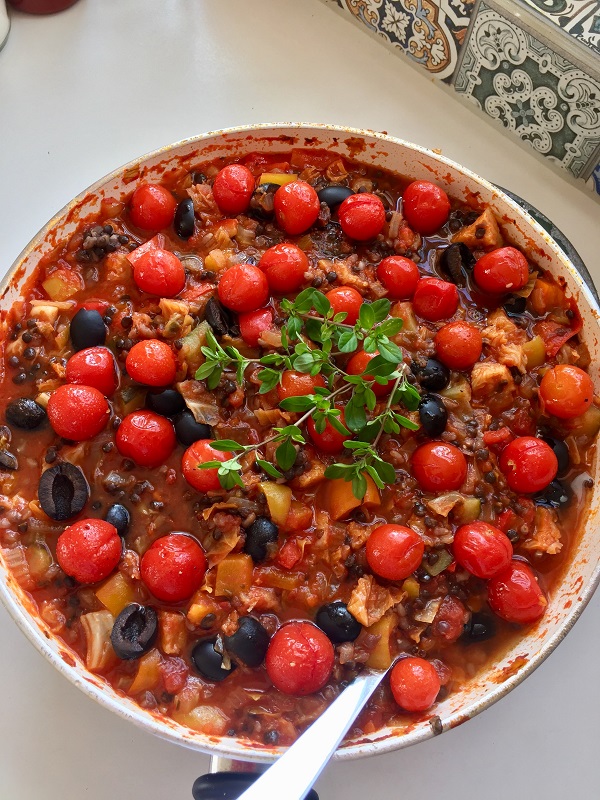 05 Jun

Beluga black lentil bolognaise (vegan) with roast cherry tomatoes

This is such a great supper dish winter or summer and served with some wholegrain pasta, a fresh green salad and some coleslaw it is a winner. The lentils are black beluga but you can use other types but not red, as they go too mushy and you want a bit of texture. You'll get your protein in this dish from the lentils and lots of mediterranean flavours.
Serves 6 to 8

200g black beluga lentils, washed and cooked in 400ml water until they absorb all the water
1 medium red onion, finely chopped
1 red, 1 yellow and 1 orange pepper, chopped
1 medium courgette, chopped
1/2 chopped cabbage, I used savoy
3 cloves garlic, crushed
1 tsp each dried oregano, thyme and rosemary
600g tomato passata
2 tbsp sundried tomato paste (Salca make a nice one)
2 tsp vegetable bouillon
1 -2 tsp sea salt
2 tsp brown sugar
Jar of drained black olives, halved

1 large punnet of baby cherry tomatoes
1 tbsp maple syrup
2 tbsp olive oil
salt and black pepper

Preheat oven gas 3 160C.
Put the lentils and the water into a medium saucepan, bring to the boil and turn down to a simmer, put on the lid and cook for 35 minutes or until all the water has been absorbed.
Meanwhile put the cherry tomatoes in a shallow oven pan, toss in the oil and maple syrup and grind over salt and pepper. Cook in the lower part of the oven until the main dish is done.
Fry the onion for 5 minutes in a large pan with a lid in 3 tbsp of olive oil. Add the peppers and courgette, then the herbs and the garlic. Put on the lid and let cook for 5 minutes on medium heat creating lots of steam. Add the passata, paste, sugar and salt and bouillon. Stir in the cabbage. Bring to the boil and simmer with lid on for 30 minutes.
When this is done,  stir in the cooked lentils and check seasoning  you may need to add more salt.
Scatter the cherry tomatoes over the top and sprinkle with the olives and fresh thyme leaves if you have them.
Serve with wholegrain penne, a fresh green salad and coleslaw see my recipe in salad section.
If it doesn't need to be vegan scatter with crumbly blue cheese or feta just before serving!