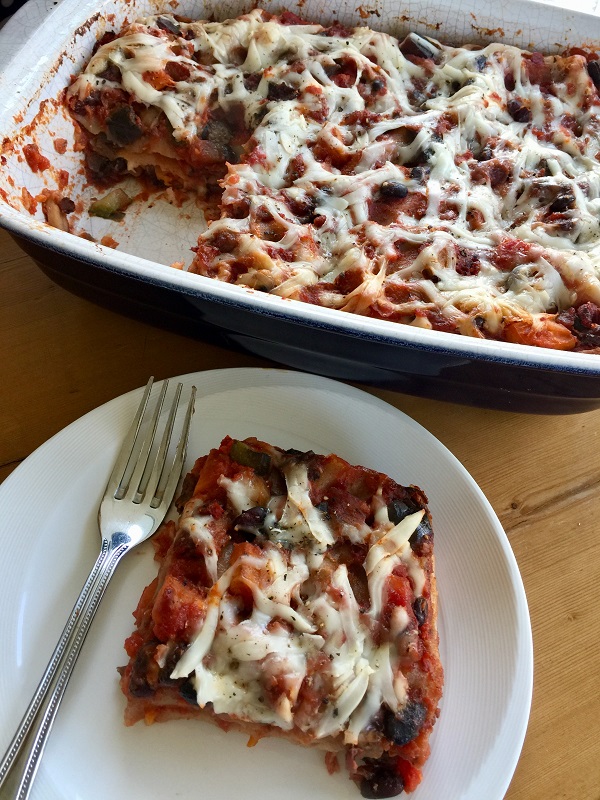 16 Jan

Black bean and goats cheese spelt lasagne

This has a deliciously rich tomato and vegetable sauce with the addition of black beans for protein and texture. The goats cheese adds a lovely flavour but if it needs to be vegan you can use Violife cheese in its place. There is no white sauce in this recipe which cuts down cooking time and makes a lighter dish.

6 sheets of wholegrain spelt lasagne pasta or other lasagne pasta
2 x 350g Bunlaun tomato and vegetable sauce or 600g jar passata
1 x 400g tin black beans, drained and rinsed through
1 medium red onion, chopped small dice
1 orange, 1 red pepper, chopped small dice1 aubergine, chopped small
1 medium sweet potato, chopped small dice
1 small courgette, chopped small dice
1 small punnet button mushrooms, sliced
2 large cloves garlic, crushed
1 rounded tsp dried oregano
2 tsp vegetable bouillon
1 tsp salt
150g hard goats cheese, grated
3 – 4 tbsp olive oil

Preheat the oven gas 5 or 190C
In a large pan with a lid, fry the onions in the oil for a few minutes on a medium heat. Add the aubergine – it will soak up all the oil but don't worry as it cooks it releases it again.
Add the rest of the vegetables, put on the lid and let some steam build up for a few minutes.
Then add the tomato sauce or passata, wash out the jar(s) with a little water and add that too. Stir in the beans and add the bouillon and salt.
Bring to the boil and turn down to a simmer and cook for approx 30 minutes till everything is soft.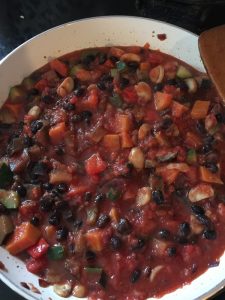 (At this point you could serve it as a stew with rice if you liked.)
Oil a deep lasagne dish, put a third of the vegetable/bean sauce in a layer at the bottom.
Top with 3 sheets of lasagne.
Cover with another third of the sauce and  sprinkle half of the cheese over the sauce.
Place 3 more sheets of lasagne over the cheese and cover with the rest of the sauce. Sprinkle over the rest of the cheese.
Bake in the lower part of the oven for 45 minutes. The cheese should be lightly browned.
Serve with my recipe for vegan coleslaw (see salads) and a green salad.