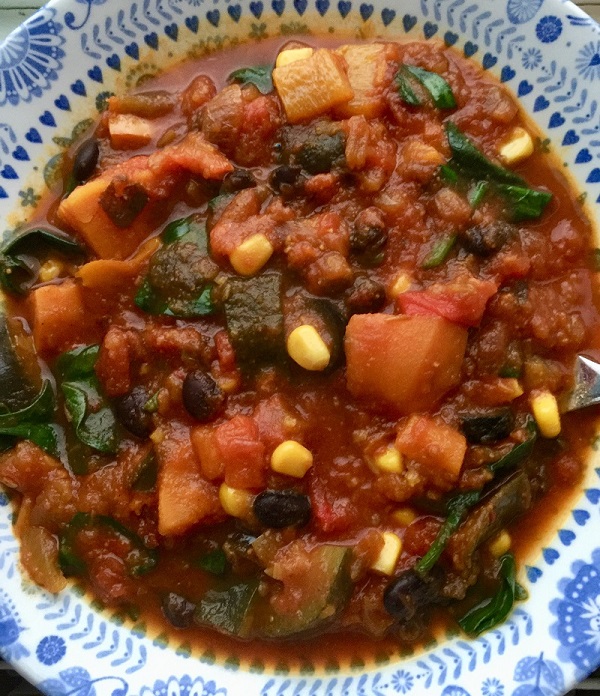 26 Feb

Black bean and vegetable chilli with spinach

The weather is so cold outside this seemed to be the very recipe to warm us all up. Vegetable chilli can be served with brown rice or mashed potatoes – real comfort food. Lots of antioxidants from the vibrant vegetables – peppers, aubergines, tomatoes and sweet potato and protein from the beans. If you eat cheese a scattering of feta does give it a nice tasty finish.

1 x 400g tin black beans, drained and rinsed
1 small tin of sweetcorn. drained and rinsed
2 tins chopped tomatoes
1 aubergine, chopped into bite size pieces
1 red onion, finely chopped
1 orange and 1 red pepper, chopped into bite size pieces
1 medium sweet potato, peeled and cut as above
1 courgette, cut as above
120g bag baby spinach
2 large cloves garlic, crushed
1 tsp chilli powder or to taste
2 tsp cumin powder
1 tsp turmeric
2 tsp vegetable bouillon
2 tsp brown sugar to counteract the acidity of the tomatoes
1 tsp salt
handful black olives, sliced

In a large saucepan, fry the onion in 2 or 3 tbsp olive oil for a few minutes until soft. Add in all the other ingredients, keep cooking with lid on and create some steam. Cook for around 10 minutes on a medium heat.
Add the spices, bouillon, salt, sugar and garlic, cook in for a few seconds then add the tomatoes and wash out each tin with a little water and add. The liquid should come up over the vegetables.
Cook for approx 25 minutes then stir in the beans and sweetcorn and cook for another 10 minutes or until everything is soft.
Stir in the olives and spinach and allow to wilt into the hot chilli.
Check the seasoning and serve with mashed potatoes or rice and a scattering of feta cheese if using.