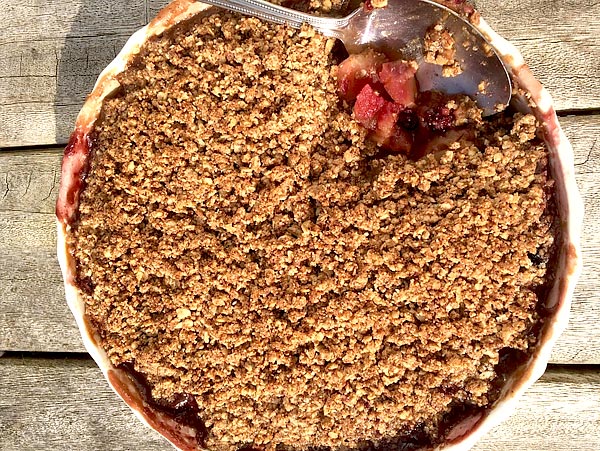 28 Oct

Blackberry, Pear and Apple Crumble ( gluten and dairy free and refined sugar free)

I gathered the blackberries from the hedgerows where I live. I've used ground almonds in place of flour to make it gluten free and increase the protein content.

For the crumble
100g oats – gluten free if necessary
100g ground almonds
100g pecan or walnuts
100g softened coconut oil
75g coconut palm sugar

for the fruit
2 ripe pears and 2 apples – cooking or eating
2 or 3 handfuls of blackberries
4 to 6 tbsp maple syrup depending on sweetness of fruits

Preheat the oven gas 5 or electric 190C

First peel and core the apples and pears ( you can leave the skin on eating apples and pears if you like but I think the end result is better with peel removed), chop up and put into a saucepan. Add 4 tbsp maple syrup and bring to the boil and simmer with the lid on till lots of juice is produced and the fruit is softened. Taste and add more maple syrup if needed. Stir in the blackberries and put the mixture into a flan dish approx 10cm diameter.

Make the crumble topping: Put all the ingredients into your food processor and pulse until everything comes together.
Sprinkle crumble mix over the fruit until you have a nice loose but thick layer – you might have some mix left over for another mini crumble – the mix freezes well.
put into the middle of the oven for about 35 minutes or until the juice bubbles up through the crumble and it is nicely browned.
Serve with soya custard, coconut ice cream or soya or coconut yoghurt.