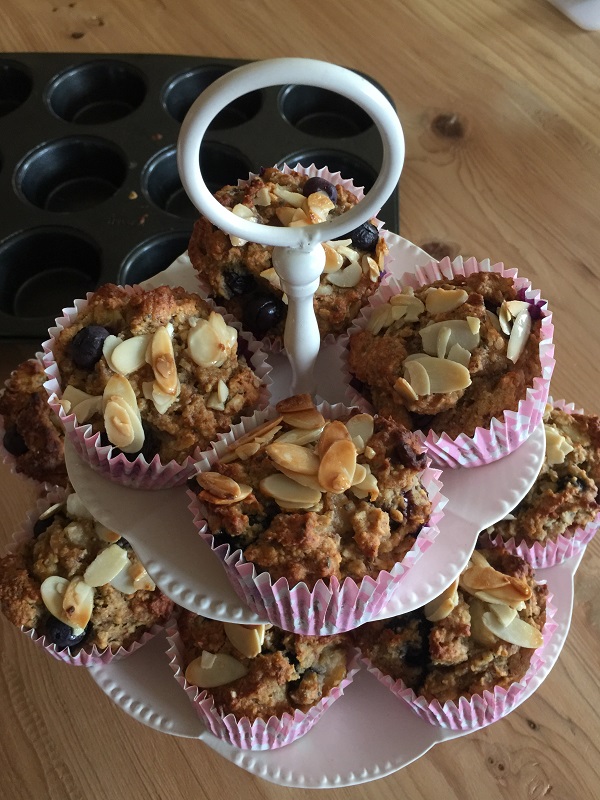 13 May

Blueberry, almond and pear muffins

Lovely treat for tea time or breakfast on the go or for elevenses. Blueberries add antioxidants, almonds add protein and fibre and oats add magnesium and soluble fibre. The pears match perfectly with the almonds. I've used dates instead of sugar.

Dry ingredients

100g porridge oats
100g spelt white flour – use wholemeal if you prefer
100g ground almonds
1 tbsp chia seeds
1 tbsp sunflower seeds
2 tsp baking powder

Wet Ingredients

1 very ripe banana
1 ripe pear cut into small pieces skin on
100g blueberries
200g dates, softened in boiling water for ten minutes if they aren't medjool dates. Drain well.
2 large eggs
1 tsp vanilla extract
100g melted butter or coconut oil

Topping
3 tbsp flaked almonds
1 tbsp maple syrup

Line a 12 hole muffin tin with muffin cases. Preheat oven gas 5 or 190C

Combine the dry ingredients in a large bowl.
Place the wet ingredients except the pear and blueberries into your food processor bowl and process till combined with some texture.
Add the wet to the dry ingredients, stir together and then fold in the pear and the blueberries.
Divide the mixture between the muffin cases.
Mix the flaked almonds with the maple syrup and divide between the muffins pressing down lightly.
Bake in the oven for 25 to 30 minutes or until lightly browned and firm to the touch.

Cool on a wire rack and store in a plastic box in the fridge for up to 5 days if they last that long!