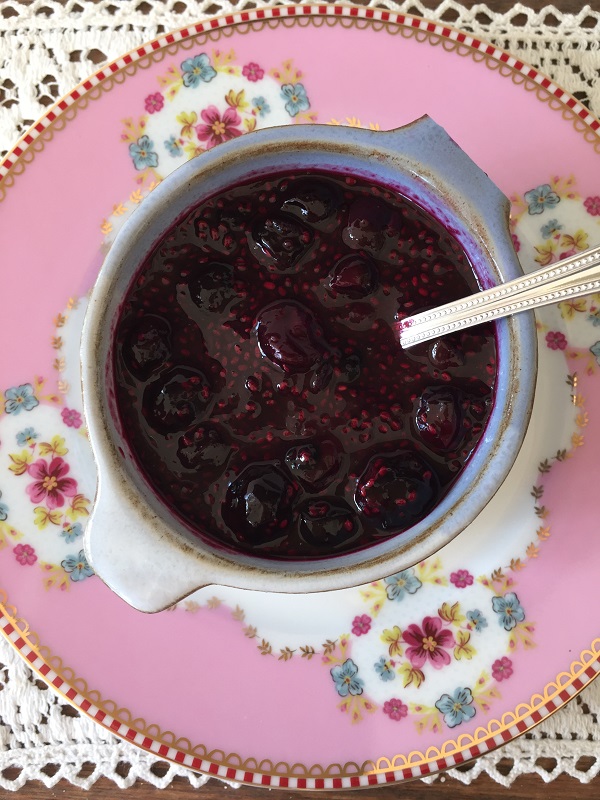 28 Jul

Blueberry chia seed jam

In the summer months there is nothing better than a scone with berry jam but traditional jam contains a lot of sugar which tastes delicious and acts as a preservative, but if you are looking for a healthier version this is surprisingly nice – any berries can be used and the chia seeds thicken the jam and add wonderful soluble fibre and protein and because the berries are cooked only for a short time hopefully preserves some of the nutrients in the berries. It wont last like traditional sugar jam so keep in the fridge and use within 10 days. I love it on bread, scones or a dollop swirled into yoghurt.

200g berries ( I used blueberries)
juice of 1/2 lemon
2 tbsp chia seeds
2 tbsp honey or maple syrup or brown rice syrup

Place the blueberries into a small saucepan and bring to a boil and simmer for 5 minutes until soft and squishy. Press with the back of a spoon to release their juices.
Stir in the other ingredients and cook on for a minute.
Take off the heat and allow to cool.
Spoon into a clean jar with a lid and store in the fridge.