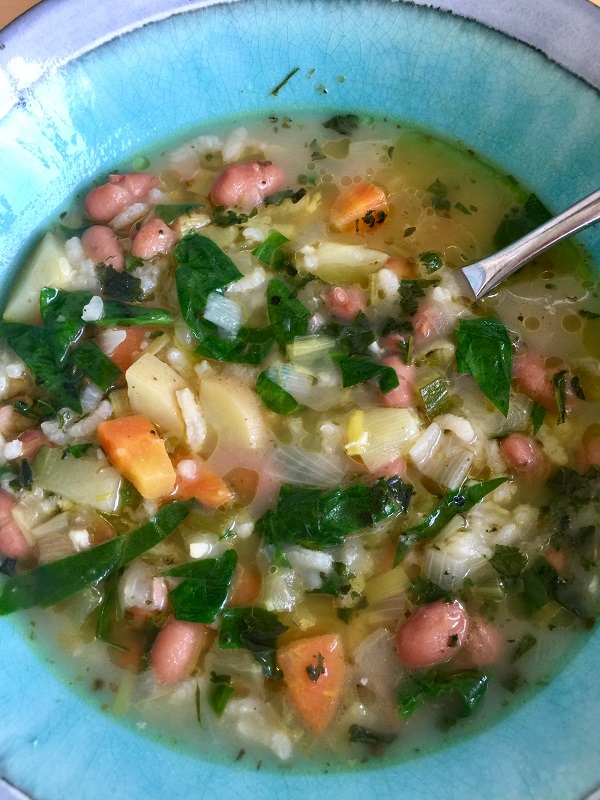 27 Jan

Borlotti bean and rissotto rice minestrone soup

Its soup weather and I saw this in the Guardian supplement on soups by Felicity Cloake. This is my vegan/vegetarian version. Interestingly it is originally a recipe by Giorgio Locatelli and doesn't have tomato as a base.

1 x 400g tin Borlotti beans
50g white risotto rice
2 carrots, finely diced
1 new or waxy potato, approx 100g finely diced skin left on
1 medium red onion, finely diced
1 small leek, finely diced
2 sticks celery, finely diced
1 small courgette, diced
2 cloves garlic, crushed
1 tsp dried oregano
2 tsp vegetable bouillon
1 tsp salt
few grinds of black pepper
Handful of kale or spinach, finely chopped
1 litre water
3 tbsp olive oil or 2 tbsp olive oil and a knob of butter if not vegan
A few basil leaves roughly chopped and a drizzle of extra virgin olive oil to finish.

Heat the oil in a large saucepan with a lid. Add the vegetables except the kale or spinach, and cook on a medium heat with lid on to create some steam for about 8 minutes, after a minute or two add the oregano and garlic.
Then stir in the beans plus the water from the tin, the rice and vegetable bouillon, salt, then add the water. Bring back to the boil and turn down to a simmer for 20 minutes until everything is soft and cooked.
Add in the kale or spinach and cook for a few more minutes.
Check the seasoning and then ladle into bowls and add the basil leaves and drizzle of oil.

Note: this gets thicker as it sits so just add more water and adjust seasoning accordingly.