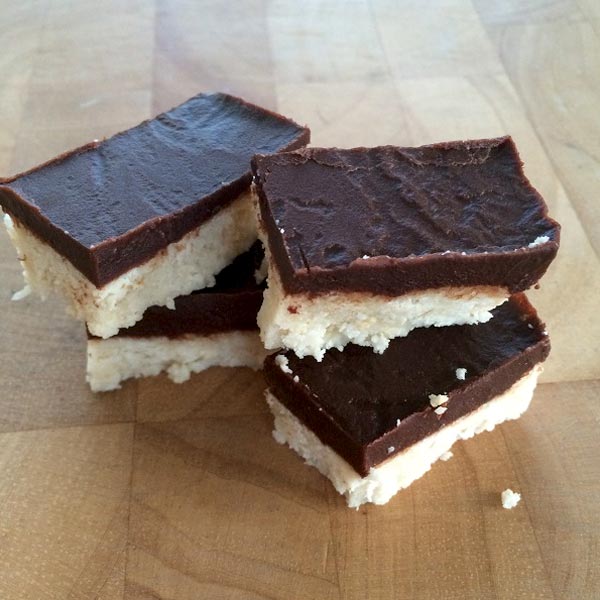 04 Nov

Bounty Bars

These are a 'healthy' version of Bounty Bars made from just a few raw ingredients – delicious and perfect for a little sweet treat after dinner. I've tweaked the original recipe a bit fromwww.wholefoodsimply.com a wonderful website for lots of raw treats.

for the coconut base

Line a 1lb loaf tin with baking parchment or cling film, leaving some hanging over the sides.

100g desiccated coconut
50g cashew nuts or blanched or flaked almonds (I used cashews)
1 tbsp honey or maple syrup
1/8th Himalayan or sea salt

Mix all the ingredients in your food processor except the honey until finely ground, add the honey and mix again till the mixture clumps together.
Press into the tin and put in the fridge until you make the chocolate layer.

For the chocolate layer

50g coconut oil
2 tbsp cacao powder
2 tbsp honey or maple syrup

Melt the coconut oil and honey in a small pan, whisk in the cacao powder until smooth.
Pour over the coconut base and refrigerate for 1 hour.

Remove from the tin and peel off the paper and cut into fingers.
Store in a  plastic box in the fridge.