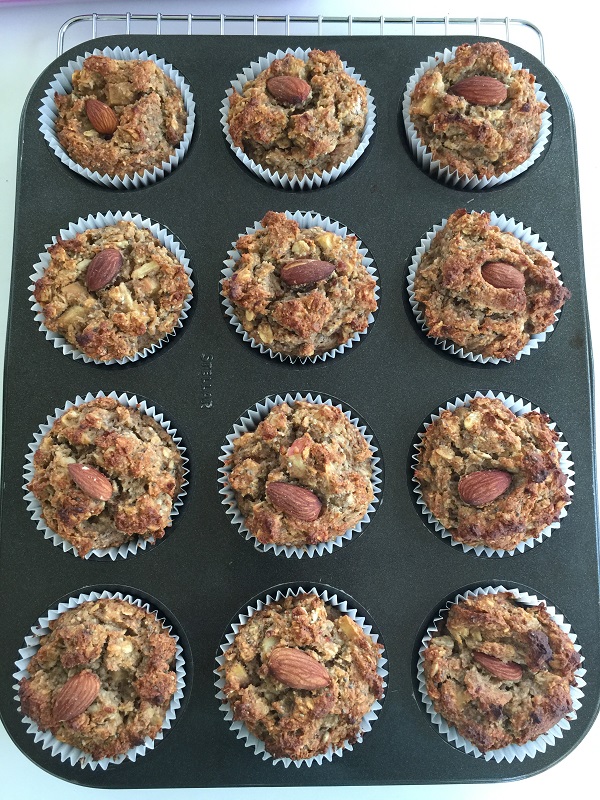 04 Jan

Breakfast muffins

These wholesome muffins don't contain any refined sugar – the sweetness comes from ripe bananas and dates. I've added in seeds, nuts and oats and eggs to bind – they are protein packed and satisfying.

Wet ingredients
2 medium ripe bananas
50g coconut oil
200g medjool dates or regular dates soaked in hot water for 10 minutes
2 large eggs

Dry Ingredients
100g jumbo oats
100g ground almonds
100g Wholegrain spelt flour
2 tbsp chia seeds
2 tbsp sunflower seeds
2 tsp baking powder
1 eating apple, peel on and finely chopped
12 almonds

Place 12 paper muffin cases into your muffin tin and preheat oven to gas 5 or 190C.
Put all the wet ingredients into your food processor and process till smooth ish.
Put all the dry ingredients into a large bowl and mix well then mix the wet into the dry ingredients.
spoon into the cases – fill them to the top as they wont rise much.
Pop an almond on top of each one and cook in the lower part of your oven for 30 minutes or until nicely browned.
Cool on a wire rack when cool enough to handle.
These will keep for a few days in an airtight container or can be frozen.