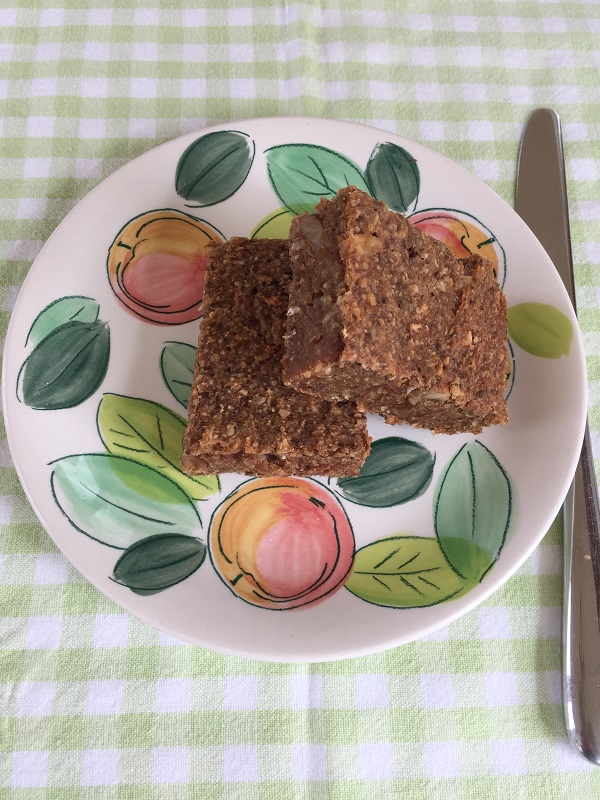 03 Apr

Breakfast squares (vegan)

A  highly nutritious quick breakfast or snack especially if you're out and about. They contain no refined sugar, they are sweetened by using unsulphured apricots which provide vitamin A especially good for eye health and potassium for maintaining healthy blood pressure and dried dates which provide great dietary fibre, minerals like iron, magnesium and potassium and B vitamins for healthy metabolism of protein, fats and carbohydrates. Ripe bananas also provide potassium and sweetness. Other ingredients – oats which are high in magnesium for relaxing smooth muscle and great dietary fibre, almonds and walnuts and seeds for good oils and protein.

Dry ingredients

100g porridge oats
100g wholegrain spelt flour or regular wholemeal
100g ground almonds
50g chopped walnuts
25g desiccated coconut
2 tbsp sunflower seeds
1/4 tsp sea or himalayan salt

Wet ingredients

2 very ripe bananas
1 eating apple, roughly chopped skin on
100g dates chopped I like to use medjool dates as they are soft and fudgy
50g dried apricots chopped
50ml coconut oil

2 tbsp chia seeds soaked in 100ml hot water for 10 minutes

Lightly oil a shallow baking tin mine is 13 inches by 8 and line with greaseproof paper.

Heat oven to gas 5 or 190C

Place the dry ingredients into a bowl and mix.
Add the wet ingredients except the chia into your food processor bowl and process till fairly smooth but leaving a bit of texture.
Add to the dry ingredients along with the soaked chia seeds. Mix well.
Spoon into your lined baking tin and smooth with a knife.
Bake on bottom rung of your oven for 35/40 mins until firm to the touch and lightly browned.
Lift out by holding the overlapping greaseproof paper and cool on a cooling rack.
Cut into squares and store in an airtight box or freeze. Keep for a week in the fridge.