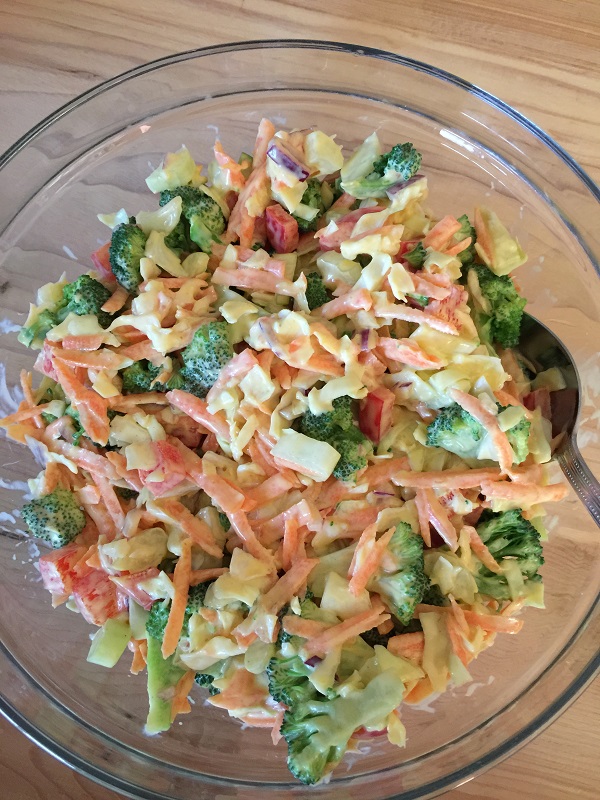 09 Jan

Broccoli 'eat a rainbow' coleslaw with egg free mayonniase

A vibrantly colourful salad, this make s a great accompaniment to have with cooked dishes or other salads. The mayonnaise can be vegan if you sub maple syrup for the honey. Brimming full of antioxidants, folate, vitamin C and fibre and getting over your five a day in one portion!

Broccoli and cabbage are part of the cruciferous family and contain a sulphur containing compound Sulforaphane which studies have shown can lower the rate of certain cancers especially breast and colon.

1 head of broccoli, cut into tiny florets
1 small red pepper, chopped into small pieces
2 sticks celery, finely sliced
1/4 white cabbage, shredded
2 carrots, peeled and grated
1 small red onion, finely chopped
1 small grated courgette
1 small eating apple, finely chopped (optional)

For the Mayonnaise

100ml cold pressed rapeseed oil or olive oil (not extra virgin as it tastes too strong here)
50ml soya milk
1 tbsp apple cider vinegar
1 tbsp honey or maple syrup
1 tbsp dijon smooth mustard
1/2 tsp himalayan or sea salt

Put the broccoli into a bowl and pour over  water just boiled from the kettle to cover. Leave for 2 minutes and drain.
Place all the vegetables into a large bowl and mix together. Set aside.
Put all the ingredients for the mayonnaise into a jug and using a hand held blender, blend until thick – this should take a minute or two. Or place in the jug of a blender and blend.

Spoon the mayonnaise over the vegetables and mix to combine.

Spoon into a serving bowl to serve.

Can sprinkle with toasted seeds or chopped parsley.