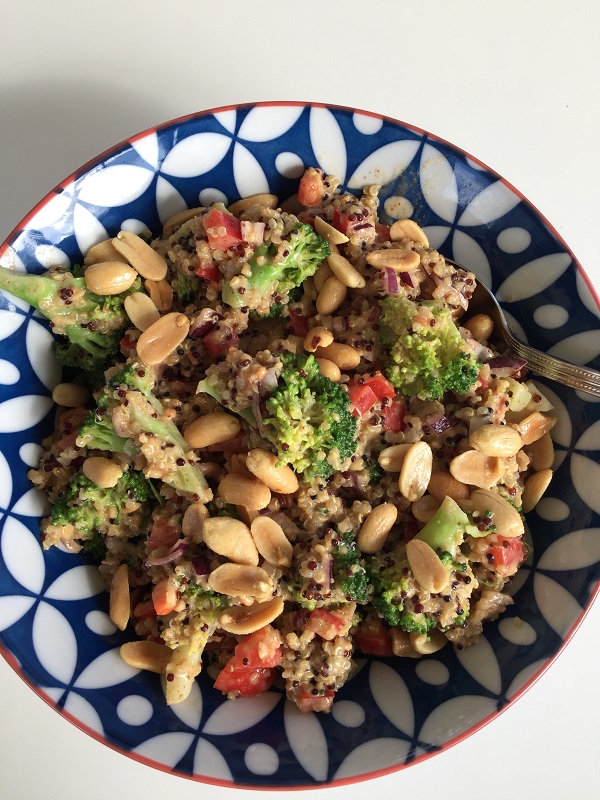 04 Jun

Broccoli, quinoa, red onion and red pepper salad in a satay dressing

This is a great way to use lightly cooked broccoli in a salad – the dressing is lovely mixed into the vegetables and quinoa. It could also be served warm. Full of protein from the peanuts and quinoa, great antioxidants from the broccoli and red peppers, broccoli is also contains anti cancer properties.

1 head of broccoli cut into very small florets
1 small red onion, very finely chopped
1 red pepper, finely chopped
3 tbsp roasted salted peanuts for garnish
1/2 cup of quinoa (I used multicoloured)

Dressing

4 tbsp smooth or crunchy peanut butter
1 tbsp tamari or shoyu sauce (aged soya sauce)
1 tbsp sweet chilli sauce
Juice of 1/2 lemon
1 clove garlic, crushed
2 teaspoons of peeled and finely chopped ginger
1/2 tsp himalyan or sea salt
Water to thin

To cook the quinoa : place quinoa in a small saucepan, add 1 cup of water and 1/2 tsp vegetable bouillon. Bring to the boil then turn down to a simmer and cook for 15 minutes, then take off the lid and fluff up with a fork. Leave to cool.

Boil a kettle, half fill a saucepan with water and bring to a rolling boil and tip in the broccoli florets – bring back to the boil and cook for 2 minutes then drain and rinse with cold water and leave to drain in a colander.
Add the onion and red pepper to a large bowl.

Make the dressing : put all the ingredients into a small bowl. Whisk together adding water until it is the consistency of single cream.

Mix the quinoa and broccoli into the bowl with the onion and pepper. Pour over the dressing and mix till everything is coated. Sprinkle with the roast peanuts.