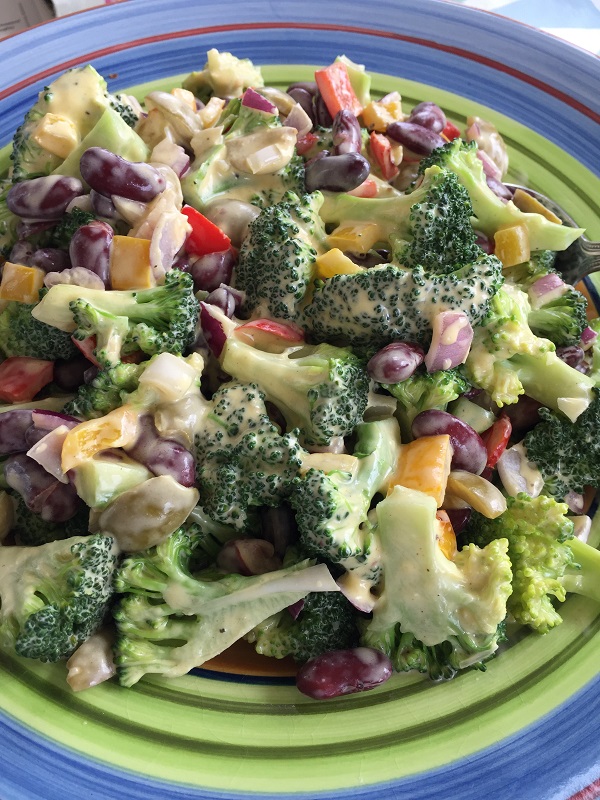 30 Mar

Broccoli and red bean salad with vegan mayonnaise (vegan)

This is essentially a cooked salad which goes well as a side to a vegetable Fritata or as part of a salad plate. The broccoli is cooked quickly for a just a couple of minutes preserving its goodness and colour. Broccoli provides us with fibre and vitamin C and contains a compound called Indol-3-carbinol which helps to prevent cancer cells especially of the breast forming. The beans provide antioxidants, fibre and protein and the peppers provide antioxidants and fibre. Red onion contains quercetin which is anti inflammatory and anti bacterial. Garlic is anti viral and also anti bacterial. Rapeseed oil is gloriously golden in colour and contains good amounts of omega 3 and lots of antioxidants for a healthy immune system. All these ingredients will help to lower cholesterol.

for the mayonnaise

100ml rapeseed oil
50ml soya milk
1 tbsp apple cider vinegar (containing the mother fermentation)
1 tbsp dijon mustard
1 tbsp maple syrup (or honey if you aren't vegan)
1/2 tsp himalayan salt
1 clove garlic, crushed
Freshly ground black pepper

Salad

1 head of broccoli organic if possible cut into very small florets
1 red onion, finely chopped
1 red and 1 orange pepper, cut into small dice
1 tin organic red kidney beans, drained and rinsed
10 green olives, quartered and stones removed

Boil some water in a large saucepan and when it is at a rolling boil add the florets for 1-2 minutes and then drain immediately in a colander and rinse through with cold water to preserve the bright green colour. Set aside.
Put the chopped peppers and onion and a tablespoon of olive oil into a small frying pan and toss in the oil and add a little salt and pepper. Cook for 10 minutes turning frequently till lightly browned. Set aside.

Place all the mayonnaise ingredients together into a bowl or jug and using a hand held blender blend until it all comes together in a thick mayonnaise or place in a blender. within a minute it should thicken.

Place all the ingredients together in a large bowl and spoon over the mayonnaise and stir till everything is coated.

Serve in a decorative bowl.