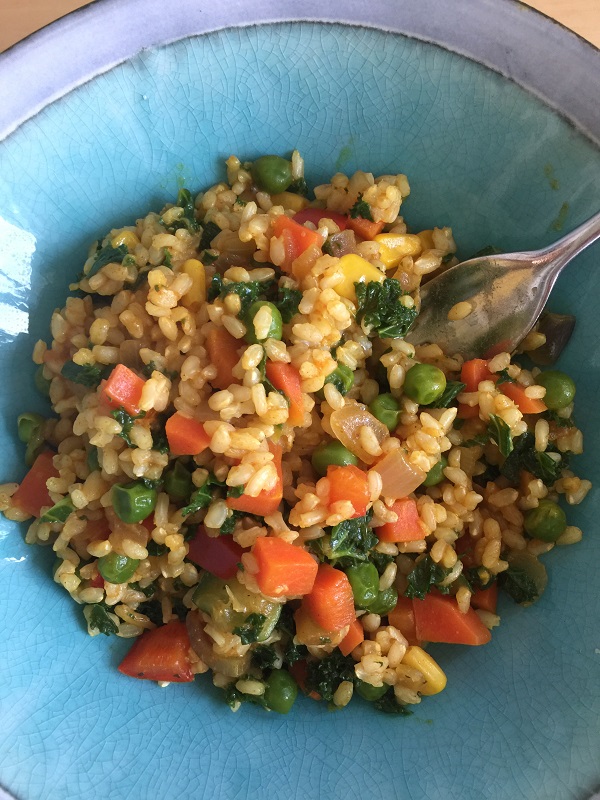 29 Jan

Brown rice and veggies

A very simple supper dish to serve topped with hummus or yoghurt or topped with a fried egg or alongside fish and green veggies. Use what i have suggested or add your own veg, great for fridge clearing!

150g short grain brown rice
300ml water
1 carrot, finely diced
1 onion, finely diced
1/2 red pepper, finely diced
1/2 courgette, finely diced
50g frozen or tinned sweetcorn
50g frozen peas
2 handfuls of finely shredded kale
1 clove garlic, crushed
1/2 tsp turmeric
1 tsp sweet paprika
1 tsp cumin
1 tsp vegetable bouillon
1 tsp salt
Few grinds of black pepper
3 tbsp light rapeseed oil or 2 tbsp and a knob of butter (optional)

rinse the rice through in a sieve then place in a small saucepan with a lid and add the water. Bring to the boil, turn down to a simmer and cook for 30 minutes until all the water is absorbed.
Add the veg to a large deep frying pan or wok with the oil and butter and fry for about 8 minutes on a medium heat stirring often.  Add the garlic and spices, salt and pepper and cook for a minute or two and then add a splash or two of water if its starting to stick. Add the cooked rice and any water left and mix well, stir fry for a few minutes and serve.