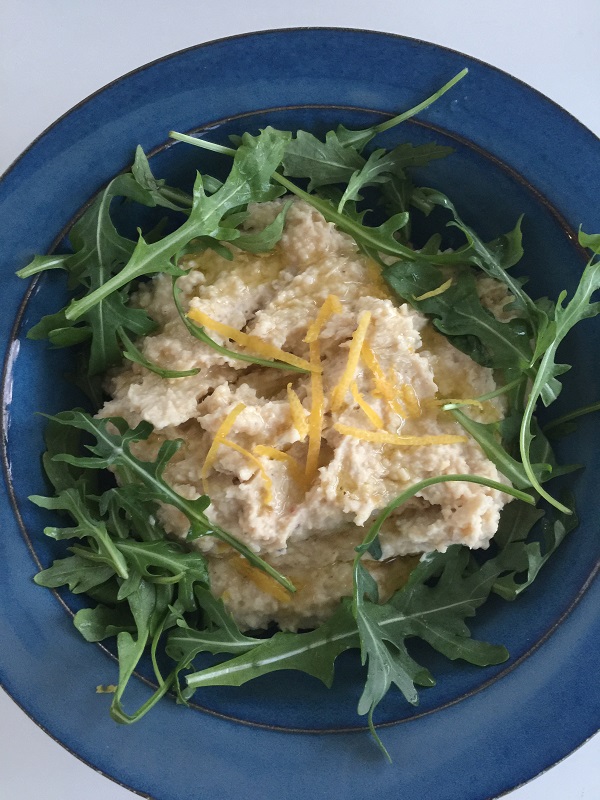 15 Jan

Butterbean and artichoke dip (vegan)

This is a very liver friendly dip. The ingredients – lemons, artichokes, garlic and extra virgin olive oil are all excellent for liver health to aid it detoxification processes. Lemon zest contains a potent antioxidant called limonene. Even the parsley for garnish is great for the liver.
I love it for lunch with pita bread and salad or to accompany a main dish like the lentil or mung bean burgers and more salad or steamed broccoli or sprouts also good for the liver!

1 x 280g jar artichokes in oil, drained (I used Jamie Oliver 's but any will do)
1 x 400g tin butterbeans, drained (without salt or sugar added)
1 large clove garlic, roughly sliced
zest of 1 lemon, keep some back for garnish
1 tbsp lemon juice
1/2 tsp himalayan or sea salt
Grind of black pepper
2 tbsp extra virgin olive oil
A handful of finely chopped parsley for garnish

Using your food processor, place in the bowl all the ingredients except the parsley and some lemon zest.
Process for a minute or till all comes together.
Check the seasoning and add more salt if necessary.

Pile into a serving dish with some rocket and sprinkle on the parsley and scatter over the lemon zest. Drizzle over some extra virgin olive oil and serve with pitta bead and salad.