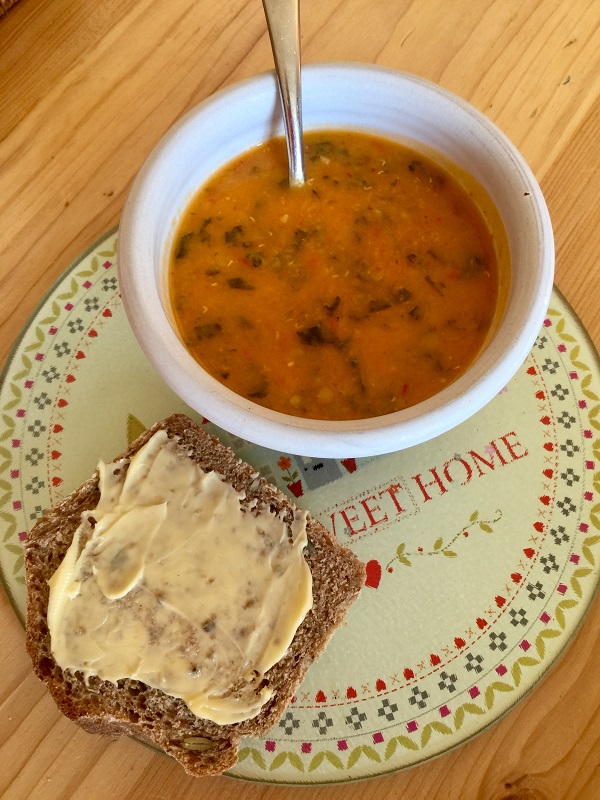 11 Aug

Butterbean, kale and red lentil soup

Simple and delicious, this creamy soup has lots of protein from the beans and lentils, lots of antioxidants from the orange veg and kale. Serve with good wholegrain sourdough bread or it can also double up as a sauce over braised cabbage or a vegetable stir fry with brown rice for a simple dinner.
This soup is liquidised so no need to chop the veg too neatly.

200g red lentils
1 400g tin butterbeans in unsalted water
1 onion, chopped
2 carrots, sliced
4 tomatoes finely chopped
2 cloves garlic, peeled and sliced
2 large handfuls of kale, very finely chopped
1 tsp dried oregano
1 tsp thyme
1 tsp vegetable bouillon
1 tsp himalayan or sea salt

Fry the onion in 2 tbsp olive oil and once soft add the carrots and tomatoes. Then add the herbs and garlic and cook for a few minutes. Add the bouillon, lentils and butterbeans including their water and top up with water until everything is well covered as the lentils will swell you might need to add more water as they cook.
Bring to the boil and turn down to a simmer and cook for 25 minutes.
Add the salt and liquidise using an immersion blender.
Stir in the very finely chopped kale and let it wilt into the soup. Add more water if it is too thick.
Check the seasoning and serve.