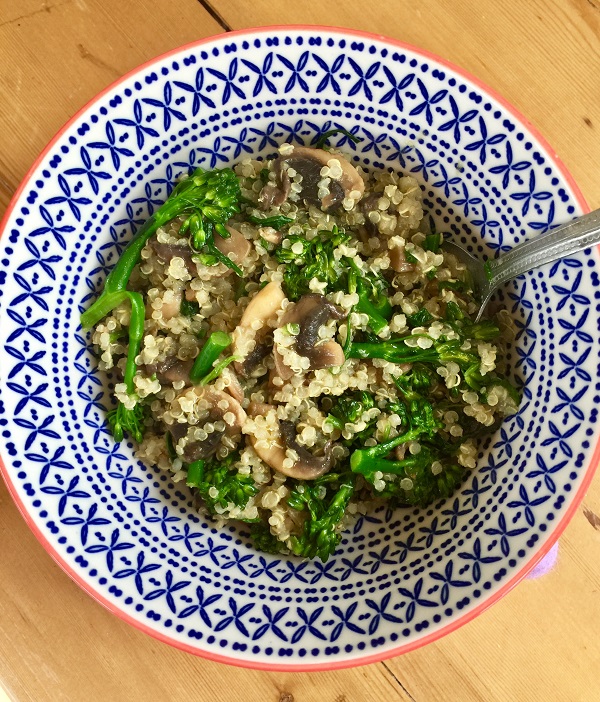 22 Jul

Buttered garlic mushrooms, broccoli and quinoa risotto

A really simple supper dish or lunch. Quinoa is a superfood and acts like a convenience food – 15 minutes and its cooked. High in protein and minerals it is great added to soups, stews and salads. Use olive oil for the mushrooms for a vegan version.

150g quinoa, rinse in a sieve under the tap
300ml water
1 tsp vegetable bouillon

1 tray of mushrooms, wash and finely slice
2 cloves garlic, crushed
1 tray (170g) of tenderstem broccoli, trim stalks and chop finely and separate florets to small pieces
2 handfuls of fresh spinach finely shredded
30g butter and 2 tbsp olive oil
2 tbsp nutritional yeast flakes (adds a cheesy savoury flavour but can leave out)
A few good grinds of black pepper and Himalayan salt to season
Extra virgin olive oil to drizzle.

Cook the quinoa with the bouillon in a medium saucepan, bring to the boil then turn down to a simmer with lid on cook for 15 minutes. Then fluff with a fork and leave lid off to cool.
Fry the mushrooms and broccoli stalks in  the butter and oil till turning nicely brown, add the garlic and the florets and the spinach, cook for a minute so the spinach wilts. Grind on the salt and black pepper. Stir in the nutritional yeast flakes if using. Add a splash of water, then stir in the quinoa and mix well together. Add another splash or two of water if its seems a bit dry. Check the seasoning.
Serve in a bowl and drizzle over some extra virgin olive oil before serving.Serves 2 to 4 depending on size of portions. Great to accompany roast vegetables with a green salad or/and some tomato and red pepper sauce (see recipe under accompaniments) or on its own topped with some crumbled feta cheese or hummus.