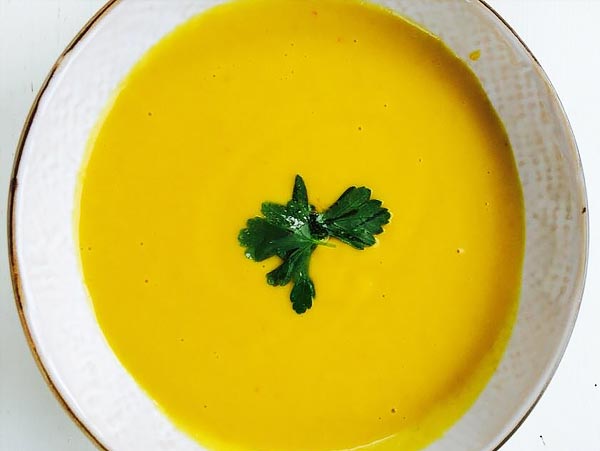 26 Apr

Butternut, cannellini bean and coconut soup

Warming, creamy and brimming with antioxidants – this soup uses fresh turmeric if you can get it.

1 medium/large butternut squash; place in the oven  gas 6 or electric 200C, loosely wrapped in foil for 40 mins to soften the skin, then peel and chop into rough chunks, discarding the bulbous part with the seeds
1 x 400g tin cannellini beans in unsalted water
1 x 400g tin coconut milk
1 red onion, roughly chopped
2 carrots, roughly sliced
2 cloves garlic, crushed
1 finger of fresh turmeric, scrubbed and finely sliced or 1 tsp dried turmeric
1 inch peeled and grated ginger, approx 1 tbsp when peeled
2 tbsp coconut oil
2 tsp himalayan or sea salt
Freshly ground black pepper

 method

Heat the coconut oil in a large saucepan and add all the vegetables, create some steam, put lid on for a few minutes, and then add the turmeric, garlic and ginger and stir around to cook briefly.
Add the coconut milk and beans plus the water from the tin and top up with more water until the vegetables are covered. Bring to the boil and simmer for 25 minutes or until vegetables are softened.Add the salt and pepper and liquidise.

Check seasoning and serve.