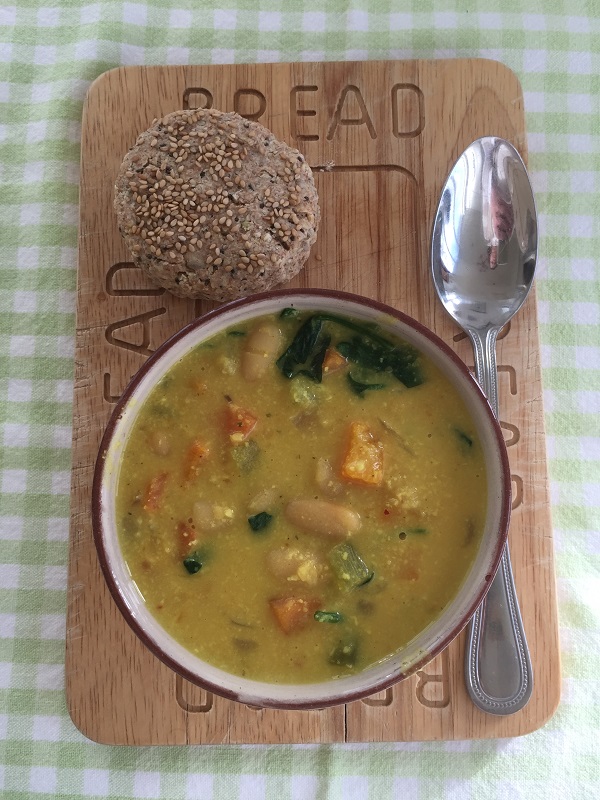 06 Feb

Cannellini bean, vegetable, almond and coconut soup/stew (vegan)

This creamy substantial soup/stew is a meal in itself. The beans add protein and fibre, the almonds thicken and add protein and good oils and the coconut is creamy, anti viral and anti bacterial and makes the soup even more satisfying. It could be served as a stew with brown rice.

1 x 400g tin cannellini beans
1 x 400g tin coconut milk (I use Thai Gold)
50g ground almonds
50g red lentils (to help thicken)
1 red onion, finely chopped
2 sticks celery, finely chopped
1 orange pepper, chopped
2 carrots, finely chopped
1 small sweet potato, peeled and chopped
2 cloves garlic, crushed
1 tsp turmeric powder
1 tsp vegetable bouillon
1/2 tsp red chilli flakes
2 tsp salt
1 handful of shredded spinach
2 tbsp coconut oil

Place all the vegetables into a large saucepan with the oil on a medium/high heat.
Stir and put the lid on once it begins to steam. Reduce the heat to simmer and cook for five minutes.
Then add the garlic, turmeric, chilli flakes, bouillon and salt. Stir and cook for a minute.
Add the tin of beans, plus their water, the tin of coconut milk plus a tin of water and the red lentils and almonds.
Stir and bring to the boil. Then turn down to a very low heat and simmer and stir occasionally.
Cook for about 20 minutes.
Check the seasoning and add the shredded spinach and let it wilt into the soup/stew.

This will get thicker as it stands – just add water to desired consistency.