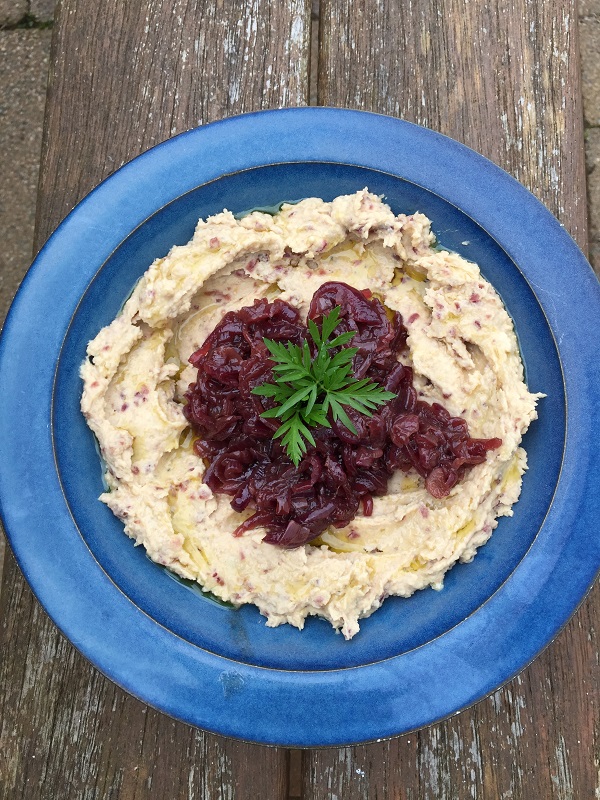 05 Nov

Caramelised onion hummus

Lovely take on traditional hummus.

Caramelised onions

3 large red onions, finely sliced
1 tsp salt
1 tbsp dark brown muscavado sugar
1 tbsp balsamic vinegar
freshly ground black pepper
2 tbsp olive oil

Heat the oil in  a large frying pan.
Add the onions, sprinkle on the salt and fry on a low heat for 30 mins or until very soft and slightly caramelised.
Sprinkle on the sugar and vinegar and pepper, stir in and cook for another 5 minutes.

Allow to cool.

Hummus

1 tin 400g chickpeas in unsalted water, drained
1 clove garlic, crushed
2 tbsp extra virgin olive oil
2 tbsp light tahini
2 tbsp lemon juice
1 tsp salt
Freshly ground black pepper

Place all the ingredients into your food processor bowl. Process till smooth, then add about 3 tbsp of the caramelised onions and pulse a few times so they mix in but retain some texture.

Spoon into a serving dish and smooth then pile up the rest of the caramelised onion on top and sprinle with chopped parsley.

Serve with pitta bread, salad or vegetable sticks of carrot, cucumber, celery and peppers.