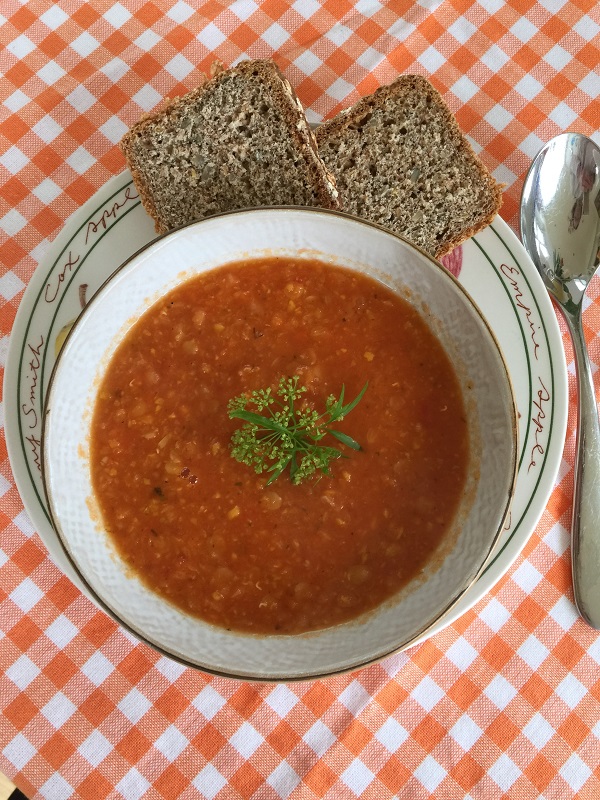 24 Jan

Carrot, sweet potato and red lentil soup with oregano (vegan)

This soup came about due to an unusually empty fridge! All I had was carrots and a sweet potato and some onions. These vegetables give us wonderful beta carotene, an antioxidant the vegetable form of vitamin A for a healthy immune system. Oregano is a very high in antioxidants too.
Red lentils contain antioxidants from their colour, great protein and soluble fibre and the mineral silica which helps to make up collagen in our skin and bones and hair so we could call this an anti aging soup!

150g red lentils
1 medium sweet potato, peeled and grated
4 medium carrots, grated
1 onion, finely chopped
2 cloves garlic, crushed
1 tsp dried oregano
1/2 tsp dried thyme
1 jar Bunlaun tomato and vegetable sauce or 400g tin chopped tomatoes
2 tsp vegetable bouillon
1 tsp sea salt
2 tbsp olive oil

Place all the veg in a large saucepan and add the oil, fry for a few minutes and add the garlic and herbs.
Add the lentils, tomato and veg sauce or tin tomatoes, salt and bouillon, 2 jars of water and bring to the boil.
Turn down to a simmer and cook until lentils are soft probably around 20 minutes. Add more water if it is too thick.
Check the seasoning and stir some baby spinach or finely shredded kale through if you have some.