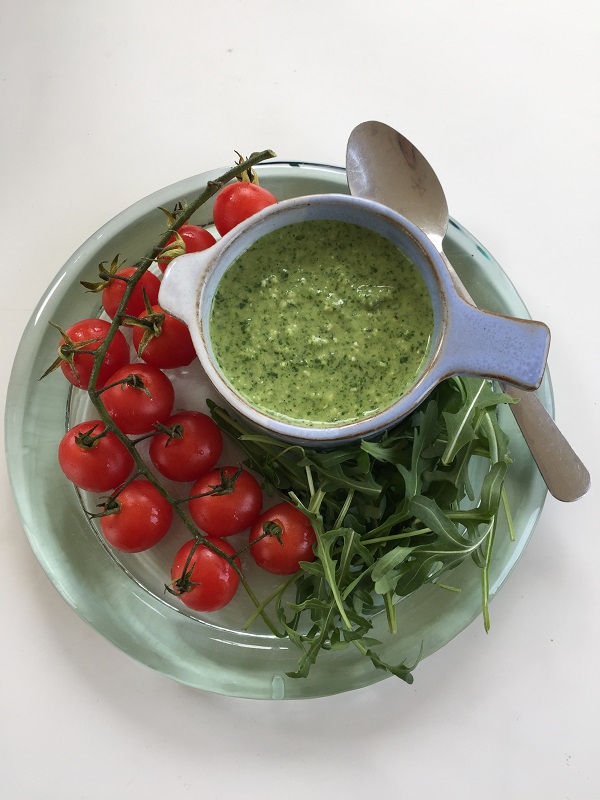 26 Feb

Cashew basil pesto (dairy free)

A quick tasty dressing for cherry tomatoes or pasta and salad – or drizzle over roast vegetables especially good on roast cauliflower and sweet potatoes in the winter months. Also delicious as a dip.
It gives us protein from the cashews, wonderful heart healthy extra virgin olive oil and fresh basil which gives us folic acid, antioxidants, antimicrobial and antibacterial properties, vitamins A K and C and minerals like calcium. Garlic also gives us antioxidant, antimicrobial and antiviral properties and helps to lower cholesterol.

1 fresh basil plant (from the supermarket) or 2 cups of fresh basil packed (use the stalks too if they are soft and not fibrous)
30g raw cashew nuts
1 large clove garlic, sliced
6 tbsp extra virgin olive oil
1/2 tsp himalayan salt
Few grinds of freshly ground black pepper

Cut the basil leaf stalks from the plant close to the soil. Rinse to make sure no soil came away and shake dry.
Place the basil leaves and stalks in your food processor with all the other ingredients and process till smooth, there will be a bit of texture from the nuts. Taste and make sure the seasoning is right.

Best served straight away or within 24 hours.
Store in the fridge in a lidded glass jar – it may discolour so just stir and it should brighten up again.