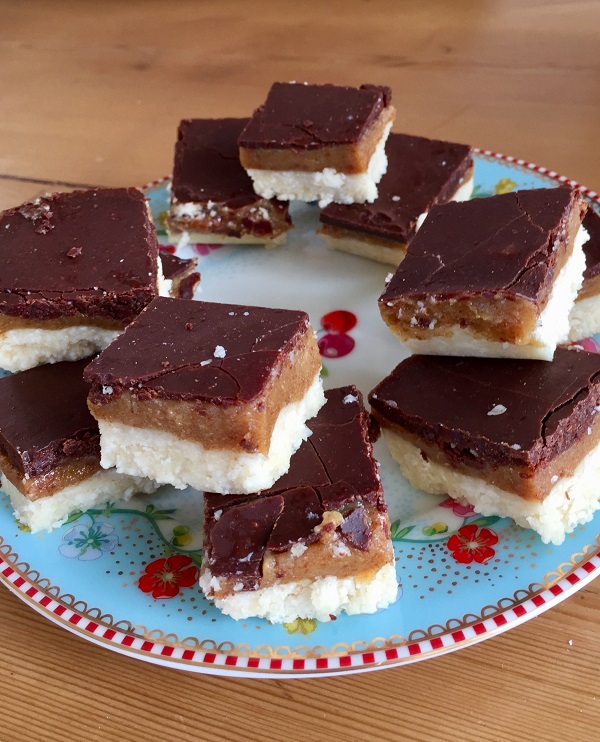 18 Mar

Cashew caramel and chocolate slice

 

These are delicious, pretty healthy if you don't eat too many, and very filling.
Cashews and almonds give us great protein, fibre and healthy oils, dates are full of B vitamins and magnesium, cacao is high in antioxidants and b vitamins and magnesium and coconut oil is anti viral and anti bacterial and is a great medium chain saturated fat to provide us with energy.
Base layer
100g ground almonds
100g desiccated coconut
2 tbsp maple syrup
50g coconut oil

Mix all the ingredients together in your food processor. Turn out and press into the base of a square silicone cake tin  approx 18cm x 18cm or line a tin with baking parchment overhanging the sides so you can easily remove the slice from the tin.
Place in the freezer while you make the middle caramel layer.

Caramel layer
150g cashew butter, shop bought or see how to make this in a previous post under the Breakfasts section
100g dates, finely chopped and soaked in hot water for 5/10 minutes and well drained
75g coconut oil
2 tbsp maple syrup

Mix all the ingredients together in the food processor until smooth. Remove the base layer from the freezer and spread the caramel evenly over the base.
Return to the freezer.

Chocolate layer
150g bought 70% dark chocolate 
Break up the squares and melt in a small bowl over a saucepan of hot water, then pour and spread over the caramel and return to freezer to harden for an hour.
or
4 tbsp cacao powder
50g coconut oil
2 tbsp maple syrup
Melt the above together in a small saucepan. Pour over the caramel layer and return to the freezer or fridge to harden for an hour.

Once set, remove from the tin and cut into small squares. Store in the freezer in an airtight box.
Best served from the freezer allowing about 5 to 10 minutes to thaw.