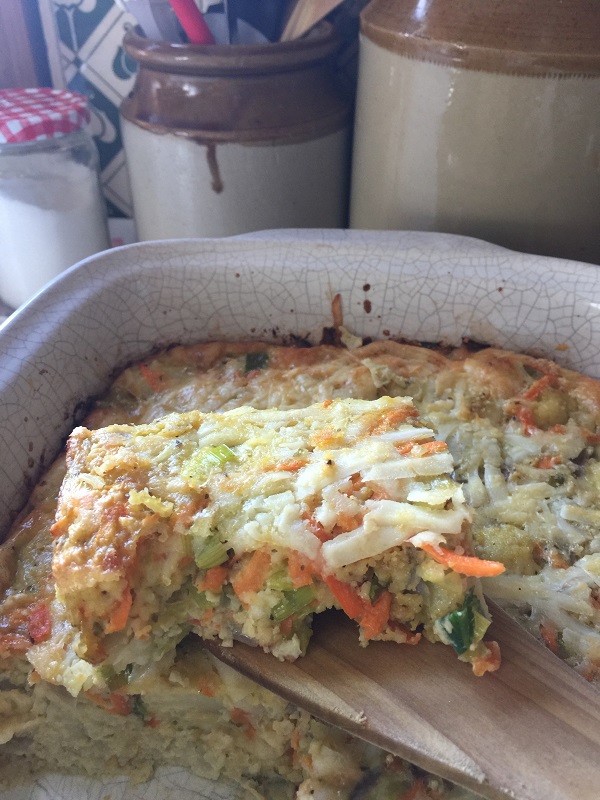 03 Feb

Cashew, cauliflower and vegetable goats cheese bake

This is a bit like a quiche without the pastry or an eggy cauliflower cheese. It contains cashew nuts, eggs and cheese for protein and cauliflower, carrot and sweet potato for fibre and vitamins. You can vary the vegetables – using broccoli instead of cauliflower and maybe a courgette instead of the carrot. its nice hot or cols and slices well and holds together in slices for a lunch box or picnic.

150g cashew nuts, finely ground
1 small cauliflower, split into small florets
1 red onion, finely chopped
1 leek, finely sliced
1 carrot, grated
1 sweet potato, peeled and grated
2 cloves garlic, crushed
1 tsp mixed herbs
1 tsp salt
1 tsp vegetable bouillon
4 large eggs, beaten
100 ml  milk of your choice
100g hard goats cheese, grated

Preheat oven to gas 5 or 190C

Place the cauliflower florets into a steamer and steam until tender or boil until tender.

Add a couple of tablespoons of olive oil to a large frying pan, heat and fry the leek and onion for a few minutes, add the garlic and herbs and then stir in the grated carrot and sweet potato.
Add a tsp salt and a tsp of bouillon. Set aside.

Oil an oven proof dish ( a lasagne dish would be perfect) and lay the cauliflower florets in the bottom. Spoon over the onion and vegetable mix on to the cauliflower and then sprinkle over the goats cheese. Mix the milk into the beaten eggs and stir in the ground cashew nuts and pour this mix over the dish.
Press the vegetables down with a spatula so the egg comes over the top a bit. Sprinkle with black pepper.
Bake in the centre of the oven for 35 /45 minutes or until lightly browned.

Serve in wedges with salad or green vegetable stir fry.