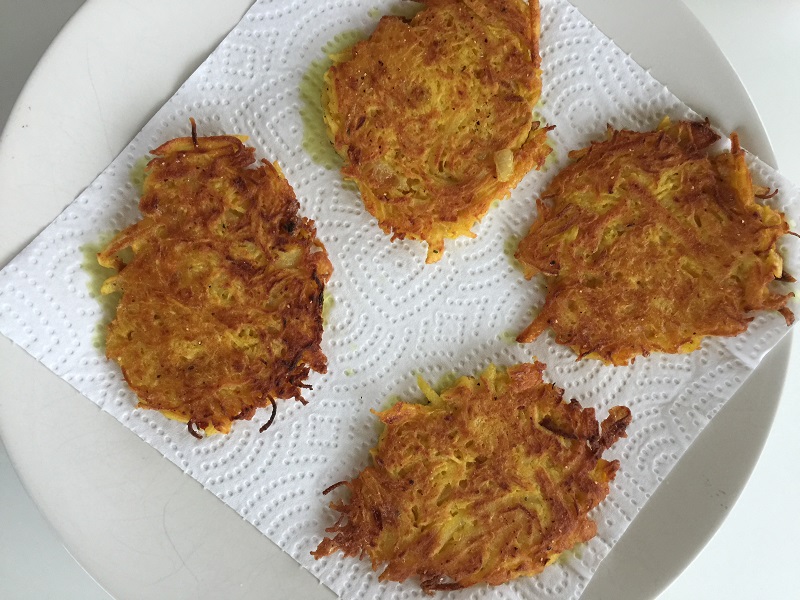 09 Mar

Celeriac and potato rosti

Celeriac is a rather ugly root vegetable related to celery. It needs a lot of peeling but the resulting flesh is slightly sweet with a very light celery flavour. It grates well and is good in coleslaw or chopped up and used to make a soup or it can be mashed like potato. Here it is grated with potato, mixed with egg and flour and fried  in a sort of potato cake. You can vary the seasonings making it curried with turmeric and cumin or adding herbs like thyme and oregano. Fennel seeds work well too.

300g grated peeled celeriac
1 medium peeled potato, grated
1 small onion, finely sliced
2 eggs, beaten
3 tbsp plain white or wholemeal flour or chickpea flour for gluten free
2 cloves garlic, crushed
1 tsp turmeric
1 tsp cumin
1 tsp vegetable bouillon
1 tsp sea or himalayan salt
Freshly ground black pepper
Finely chopped parsley (optional)
Olive oil for frying

Place the grated potato in a few layers of kitchen paper and squeeze out the moisture.
Add to a large bowl with the grated celeriac – I don't squeeze this as it tends to be quite dry.
Mix in the onion and garlic, then add the spices, salt, bouillon and the flour.
Add the eggs, stir in parsley if using, and mix well.
Heat some olive oil in a frying pan and when hot, place large spoonfuls f the mixture into the pan, press down and into a rough round shape.
Cook on both sides for about 10 minutes in total till golden brown. Place on kitchen paper to drain whilst you cook the rest.
Serve with a curry or a vegetable stew and some salad and coleslaw.