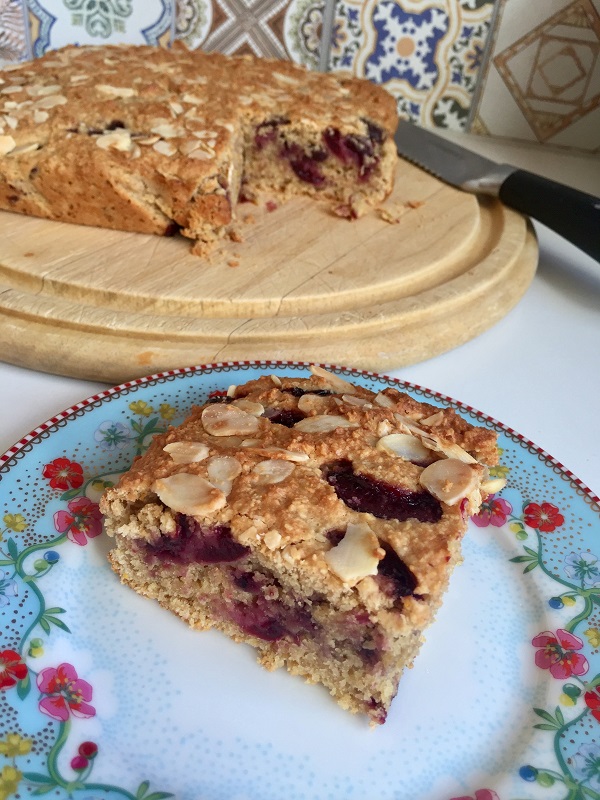 18 Jul

Cherry, almond and orange traybake

Its Cherry season one of my favourite Summer fruits. This lovely dessert or breakfast depending on when you eat it contains oats for sustained energy and soluble fibre, ground almonds which provide us with protein and good oils and calcium for our bones. I've used butter here but you can use coconut oil for a dairy free version. If you want a vegan version replace the egg with chia seed 'egg' see below but it will be a bit heavier. Other stoned fruits would work with this too like Apricots Plums and Peaches.

200g cherries, stoned and cut into quarters
Zest from one organic orange
200g ground almonds
100g porrridge oats
100g white spelt flour – use wholemeal if you like it will be a heavier texture
100g soft brown sugar
1 heaped tsp baking powder
75g melted butter or coconut oil
1 large egg, beaten or 2 tbsp chia seed soaked in 100g almond milk for 15 minutes
100ml almond milk or other plant milk
1 tsp vanilla paste or extract
2 tbsp flaked almonds for the top

Preheat oven 190C or gas mark 5.
Line a shallow tin approx 22cm x 22cm with baking parchment, overlapping the sides.

Stone the cherries and cut into quarters and set aside.
In a large bowl, put the ground almonds, oats, baking powder, flour and sugar and stir together.
Add the orange zest, egg, almond milk, vanilla, and melted butter and mix together until everything is incorporated.
Stir in the cherry quarters and spoon into the prepared tin.
Scatter over the almond flakes and lightly press into the mixture.
Bake for 35 minutes or until it is nicely browned.
Lift out with the paper after 5 minutes and place on a cooling rack. When cool enough to handle,  peel off the paper by inverting onto a plate or another cooling rack.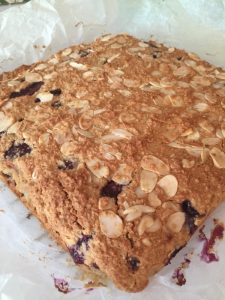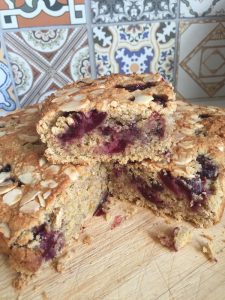 Cut into squares and serve warm or cold with coconut or greek yoghurt.