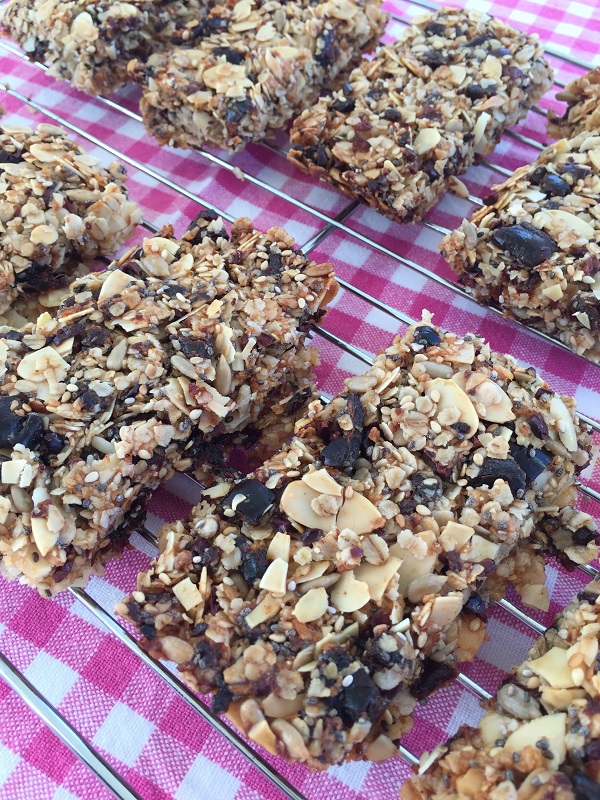 28 Jan

Chewy date and cacao nib flapjacks with seeds (vegan)

These make a great snack or a quick breakfast. Free from refined sugar the seeds and almonds give us protein and fibre, omega oils and the oats are abundant in magnesium, soluble fibre and slow releasing carbohydrates. Coconut oil is a vegetable saturated fat, it is anti viral and anti bacteria and studies suggest it doesn't raise cholesterol levels like animal saturated fats.
The special ingredient are the cacao nibs – these are peeled, dried and chopped up cacao beans. They are crunchy and  chocolatety and provide us with flavonoids which are antioxidants, they fight free radicals which cause damage to our cells.  Cacao provides us with minerals iron and magnesium for nerve and muscle function. Cacao also promotes good mood as it acts on our neurotransmitters. So seems like these will set us up for the day!

Dry ingredients
100g oats
100g flaked almonds
100g finely chopped dates
50g desiccated coconut
2 tbsp each of sesame seeds, sunflower seeds, Chia seeds
2 tbsp cacao nibs
1/4 tsp sea salt or himalayan salt

wet ingredients
100g coconut oil
100g brown rice syrup (this helps them to stick together better than honey or maple syrup)

Line a shallow baking tray approx 28 x 22 cm with greaseproof paper ( I do this by scrunching up a large piece of paper, unraveling it and pressing into the tin).
Mix all the dry ingredients together in a bowl. Heat the coconut oil and syrup in a small saucepan (I put the saucepan on the scales, re set and measure the oil and syrup straight into it).
Pour onto the dry ingredients and mix well.
Spoon into the lined tin and press down and level.
Bake for 25 minutes or until lightly browned.
Allow to cool for 10 minutes then lift out of the tin by the paper and place on a cooling rack. Cut into squares, and when cool enough, remove from the paper, separate the squares and leave them on the rack to completely cool down.
Store in an airtight container. Will last for 5 to 6 days if they aren't all eaten by then!