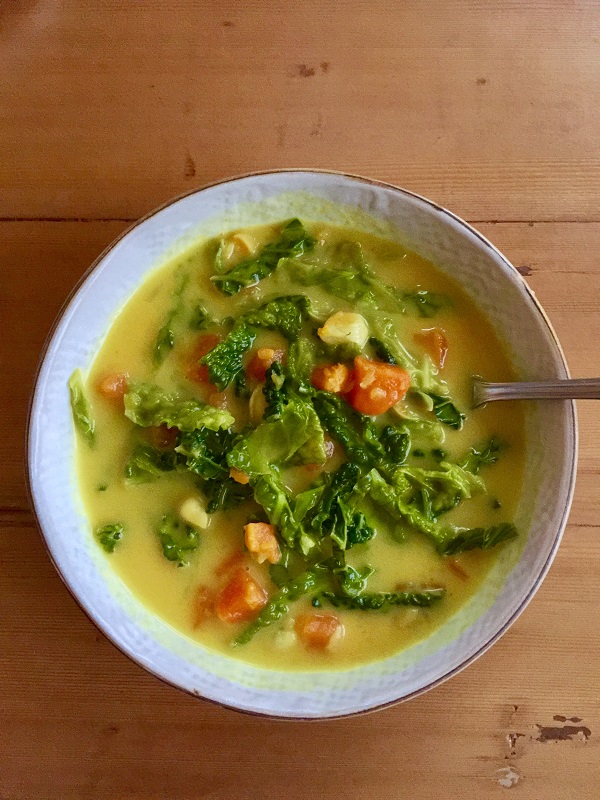 30 Oct

Chickpea, coconut and sweet potato soup with lime (vegan)

This is a deliciously warming soup for the Autumn and Winter days ahead. Turmeric and ginger add antioxidants and chickpeas add protein and fibre. The coconut adds creaminess without using dairy and the lime gives it an Asian slant.

1 x 400g tin chickpeas
1 x 400g  coconut milk
2 sweet potatoes, peeled and cut into small cubes
2 carrots, peeled and diced
4 darkish leaves from a savoy or green cabbage, stem removed and finely shredded
1 onion, finely chopped
2 cloves garlic, crushed
1 tbsp grated chopped ginger
1 tsp turmeric powder
2 tsp vegetable bouillon
1 tsp salt
2 tbsp coconut oil
2 tbsp lime juice

Melt the coconut oil in a large saucepan, add the onion, fry gently for a few minutes then add the garlic and ginger and the turmeric. Fry for a few seconds and add the carrot and sweet potato and bouillon powder.
Cook for 2 minutes on gentle heat and then add the chickpeas plus the water from the tin, the coconut milk and then fill the tin with water and add that.
Bring to the boil, and turn down to a simmer and cook for 15 minutes or until veg is tender.
Add the cabbage and the salt and cook for 5 to ten minutes until soft.
Check the seasoning and add more salt if necessary then add the lime juice and stir in.
Serve.